#10831 HDAC7 (E7O8V) Rabbit mAb
Shopping Days対象製品 対象製品の中から、まとめて購入で一部製品が無料に!
*ウェブで専用注文書を作成し、代理店へご注文ください。
をクリックすると選べます。
| | | | | | |
| --- | --- | --- | --- | --- | --- |
| #10831S | 100 μL | 56,000 | | | |
感度
分子量 (kDa)
抗体の由来
貯法
内在性
124
Rabbit IgG
-20℃
ウェスタンブロッティング (1:1000)、免疫沈降 (1:100)、免疫蛍光細胞染色 (IF-IC) (1:100)
特異性・感度
HDAC7 (E7O8V) Rabbit mAb recognizes endogenous levels of total HDAC7 protein. This antibody does not cross-react with other HDAC proteins, including HDAC4 and HDAC5.
使用抗原
Monoclonal antibody is produced by immunizing animals with a synthetic peptide corresponding to residues surrounding Gly60 of human HDAC7 protein.
ホモロジー (相同性) 検索をご希望の場合 >>>
ホモロジー検索をご要望の際は、ご希望のサンプル種のアミノ酸配列とともにお問合せください。
※下記の社内データは、すべて10831 の推奨プロトコールで実験した結果です。
Western Blotting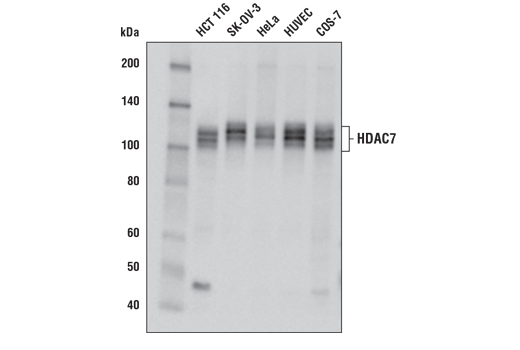 Western blot analysis of extracts from various cell lines using HDAC7 (E7O8V) Rabbit mAb.
IP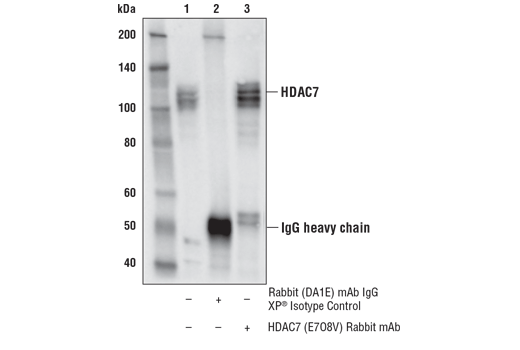 Immunoprecipitation of HDAC7 from HCT 116 cell extracts. Lane 1 is 10% input, lane 2 is Rabbit (DA1E) mAb IgG XP® Isotype Control #3900, and lane 3 is HDAC7 (E7O8V) Rabbit mAb. Western blot analysis was performed using HDAC7 (E7O8V) Rabbit mAb.
IF-IC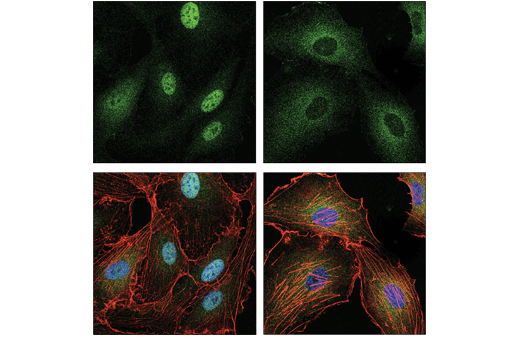 Confocal immunofluorescent analysis of HUVEC cells, untreated (left) or treated with TPA #4174 (10 ng/mL, 4 hr; right) to promote cytoplasmic accumulation, using HDAC7 (E7O8V) Rabbit mAb (green). Actin filaments were labeled with DyLight™ 554 Phalloidin #13054 (red). Cells were mounted in ProLong® Gold Antifade Reagent with DAPI #8961 (blue).
Acetylation of the histone tail causes chromatin to adopt an "open" conformation, allowing increased accessibility of transcription factors to DNA. The identification of histone acetyltransferases (HATs) and their large multiprotein complexes has yielded important insights into how these enzymes regulate transcription (1,2). HAT complexes interact with sequence-specific activator proteins to target specific genes. In addition to histones, HATs can acetylate nonhistone proteins, suggesting multiple roles for these enzymes (3). In contrast, histone deacetylation promotes a "closed" chromatin conformation and typically leads to repression of gene activity (4). Mammalian histone deacetylases can be divided into three classes on the basis of their similarity to various yeast deacetylases (5). Class I proteins (HDACs 1, 2, 3, and 8) are related to the yeast Rpd3-like proteins, those in class II (HDACs 4, 5, 6, 7, 9, and 10) are related to yeast Hda1-like proteins, and class III proteins are related to the yeast protein Sir2. Inhibitors of HDAC activity are now being explored as potential therapeutic cancer agents (6,7).
Tween is a registered trademark of ICI Americas, Inc.
XP is a registered trademark of Cell Signaling Technology, Inc.
ProLong is a registered trademark of Life Technologies Corporation.
Cell Signaling Technology is a trademark of Cell Signaling Technology, Inc.
DyLight is a trademark of Thermo Fisher Scientific, Inc. and its subsidiaries.