#13082 LC3A/B (D3U4C) XP® Rabbit mAb (Alexa Fluor® 488 Conjugate)
Shopping Days対象製品 対象製品の中から、まとめて購入で一部製品が無料に!
*ウェブで専用注文書を作成し、代理店へご注文ください。
をクリックすると選べます。
| | | | | | |
| --- | --- | --- | --- | --- | --- |
| #13082S | 100 μL | 74,000 | | | |
感度
抗体の由来
貯法
内在性
Rabbit IgG
4℃
| 種交差性 (社内試験済) | |
| --- | --- |
| ヒト、マウス、ラット | サル、アフリカツメガエル、ウシ、イヌ、ブタ |
免疫蛍光細胞染色 (IF-IC) (1:100)、フローサイトメトリー (1:50)
特異性・感度
内在性レベルのLC3A とLC3B タンパク質を検出します。
使用抗原
ヒトのLC3B タンパク質のLeu44 周辺領域 (合成ペプチド) (LC3A でも保持されている)
ホモロジー (相同性) 検索をご希望の場合 >>>
ホモロジー検索をご要望の際は、ご希望のサンプル種のアミノ酸配列とともにお問合せください。
※下記の社内データは、すべて13082 の推奨プロトコールで実験した結果です。
IF-IC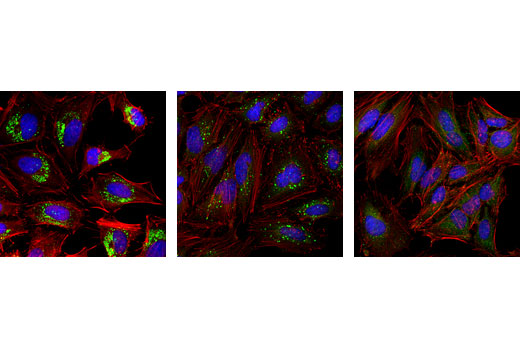 Confocal immunofluorescent analysis of HeLa cells, chloroquine-treated (50 μM, overnight; left), nutrient-starved with EBSS (4 hr, middle), or untreated (right) using LC3A/B (D3U4C) XP® Rabbit mAb (Alexa Fluor® 488 Conjugate) #13082 (green) and β-Actin (8H10D10) Mouse mAb #3700 (red). Blue pseudocolor = DRAQ5® #4084 (fluorescent DNA dye).
Autophagy is a catabolic process for the autophagosomic-lysosomal degradation of bulk cytoplasmic contents (1,2). Autophagy is generally activated by conditions of nutrient deprivation, but it has also been associated with a number of physiological processes including development, differentiation, neurodegenerative diseases, infection, and cancer (3). Autophagy marker Light Chain 3 (LC3) was originally identified as a subunit of microtubule-associated proteins 1A and 1B (termed MAP1LC3) (4) and subsequently found to contain similarity to the yeast protein Apg8/Aut7/Cvt5 critical for autophagy (5). Three human LC3 isoforms (LC3A, LC3B, and LC3C) undergo post-translational modifications during autophagy (6-9). Cleavage of LC3 at the carboxy terminus immediately following synthesis yields the cytosolic LC3-I form. During autophagy, LC3-I is converted to LC3-II through lipidation by a ubiquitin-like system involving Atg7 and Atg3 that allows for LC3 to become associated with autophagic vesicles (6-10). The presence of LC3 in autophagosomes and the conversion of LC3 to the lower migrating form, LC3-II, have been used as indicators of autophagy (11).
The Alexa Fluor dye antibody conjugates in this product are sold under license from Life Technologies Corporation for research use only, except for use in combination with DNA microarrays. The Alexa Fluor® dyes (except for Alexa Fluor® 430 dye) are covered by pending and issued patents. Alexa Fluor® is a registered trademark of Molecular Probes, Inc.
DRAQ5 is a registered trademark of Biostatus Limited.
XP is a registered trademark of Cell Signaling Technology, Inc.
Cell Signaling Technology is a trademark of Cell Signaling Technology, Inc.