#13192 Golgin-97 (D8P2K) Rabbit mAb
Shopping Days対象製品 対象製品の中から、まとめて購入で一部製品が無料に!
*ウェブで専用注文書を作成し、代理店へご注文ください。
をクリックすると選べます。
| | | | | | |
| --- | --- | --- | --- | --- | --- |
| #13192S | 100 μL | 56,000 | | | |
感度
分子量 (kDa)
抗体の由来
貯法
内在性
97
Rabbit IgG
-20℃
ウェスタンブロッティング (1:1000)、免疫沈降 (1:100)、免疫蛍光細胞染色 (IF-IC) (1:100)
特異性・感度
内在性レベルのGolgin-97 タンパク質を検出します。
使用抗原
ヒトのGolgin-97 タンパク質のLeu663 周辺領域 (合成ペプチド)
ホモロジー (相同性) 検索をご希望の場合 >>>
ホモロジー検索をご要望の際は、ご希望のサンプル種のアミノ酸配列とともにお問合せください。
※下記の社内データは、すべて13192 の推奨プロトコールで実験した結果です。
Western Blotting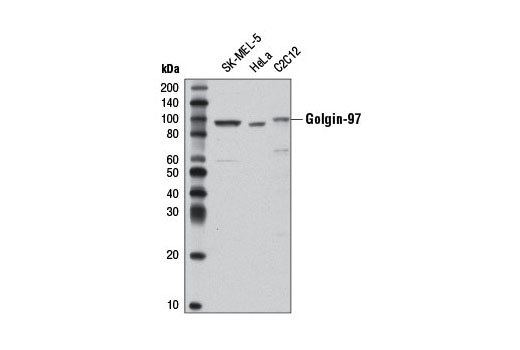 Western blot analysis of extracts from SK-MEL-5, HeLa, and C2C12 cells using Golgin-97 (D8P2K) Rabbit mAb.
IP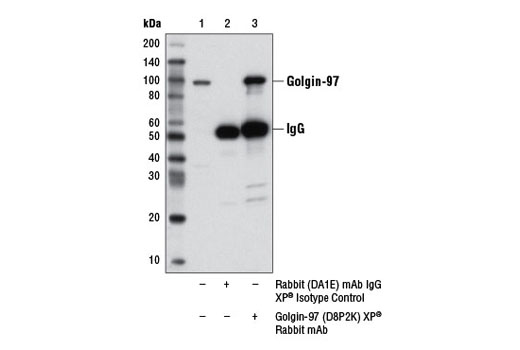 Immunoprecipitation of Golgin-97 from SK-MEL-5 cell extracts using Rabbit (DA1E) mAb IgG XP® Isotype Control #3900 (lane 2) or Golgin-97 (D8P2K) Rabbit mAb (lane 3). Lane 1 is 10% input. Western blot analysis was performed using Golgin-97 (D8P2K) Rabbit mAb.
IF-IC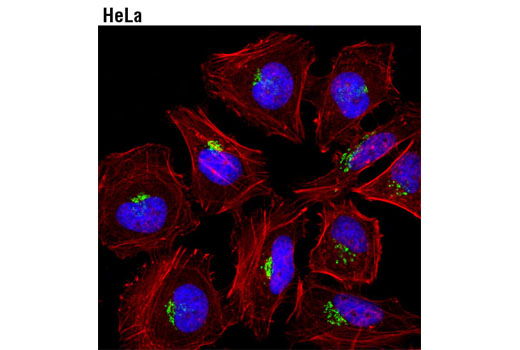 Confocal immunofluorescent analysis of HeLa cells using Golgin-97 (D8P2K) Rabbit mAb (green). Actin filaments were labeled with DyLight™ 554 Phalloidin #13054 (red). Blue pseudocolor = DRAQ5® #4084 (fluorescent DNA dye).
The Golgi-associated protein golgin A1 (GOLGA1, golgin-97) was first isolated as a Golgi complex autoantigen associated with the autoimmune disorder Sjogren's syndrome (1). The golgin-97 protein contains a carboxy-terminal GRIP domain and is a commonly used trans-Golgi network (TGN) marker. All four known mammalian GRIP domain-containing proteins (golgin-97, golgin-245, GCC88 and GCC185) are found in the TGN, share extensive alpha-helical structure, and form homodimers (2). While all four golgin proteins localize to the TGN, they exhibit different membrane-binding abilities and are found in distinct TGN regions (3). Golgin-97 and golgin-245 are targeted to the trans-Golgi network through an interaction between their GRIP domains and the Arl1 protein switch II region (4). Overexpression studies and siRNA assays with GRIP domain-containing proteins suggest that these proteins help to maintain trans-Golgi network integrity and function by controlling localization of TGN resident proteins (5). By using a Shiga toxin B fragment (STxB)-based in vitro transport assay and an E-cadherin transport model system, golgin-97 and its effector Arl1-GTP were shown to play a role in trans-Golgi endosomal trafficking (6,7). Research studies also suggest that golgin-97 may play a role in poxvirus morphogenesis and maturation (8,9).
DRAQ5 is a registered trademark of Biostatus Limited.
Tween is a registered trademark of ICI Americas, Inc.
XP is a registered trademark of Cell Signaling Technology, Inc.
Cell Signaling Technology is a trademark of Cell Signaling Technology, Inc.
DyLight is a trademark of Thermo Fisher Scientific, Inc. and its subsidiaries.