#20102 Basic FGF Antibody
Shopping Days対象製品 対象製品の中から、まとめて購入で一部製品が無料に!
*ウェブで専用注文書を作成し、代理店へご注文ください。
をクリックすると選べます。
| | | | | | |
| --- | --- | --- | --- | --- | --- |
| #20102S | 100 μL | 56,000 | | | |
感度
分子量 (kDa)
抗体の由来
貯法
内在性
18, 22, 24
Rabbit
-20℃
ウェスタンブロッティング (1:1000)、免疫沈降 (1:50)
特異性・感度
Basic FGF Antibody recognizes endogenous levels of total basic FGF protein.
使用抗原
Polyclonal antibodies are produced by immunizing animals with a synthetic peptide corresponding to residues surrounding Pro155 of human basic FGF protein. Antibodies are purified by protein A and peptide affinity chromatography.
ホモロジー (相同性) 検索をご希望の場合 >>>
ホモロジー検索をご要望の際は、ご希望のサンプル種のアミノ酸配列とともにお問合せください。
※下記の社内データは、すべて20102 の推奨プロトコールで実験した結果です。
Western Blotting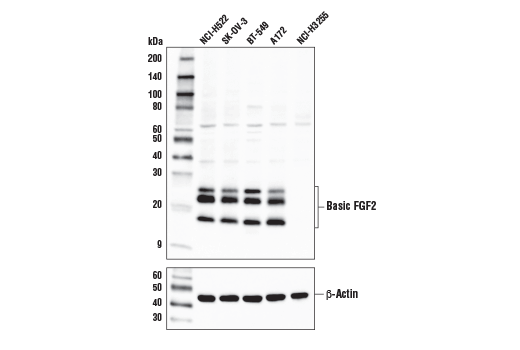 Western blot analysis of extracts from various cell lines using Basic FGF Antibody (upper) and β-Actin (D6A8) Rabbit mAb #8457 (lower).
IP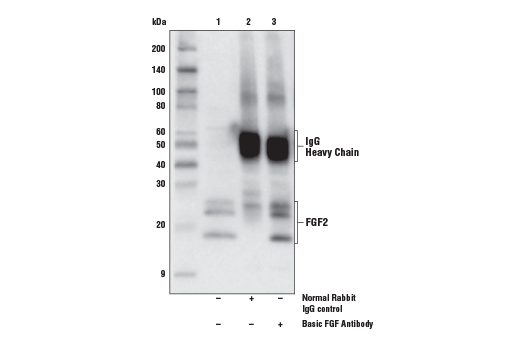 Immunoprecipitation of basic FGF protein from SK-OV-3 cell extracts. Lane 1 is 10% input, lane 2 is Normal Rabbit IgG control #2729, and lane 3 is Basic FGF Antibody. Western blot analysis was performed using Basic FGF Antibody. Anti-rabbit IgG, HRP-linked Antibody #7074 was used as secondary antibody.
Fibroblast growth factors are a family of broad-spectrum growth factors influencing a plethora of cellular activities. The interaction of at least 23 ligands, 4 receptors and multiple coreceptors provides a dramatic complexity to a signaling system capable of effecting a multitude of responses (1,2). Basic fibroblast growth factor (bFGF or FGF2), initially identified as a mitogen with prominent angiogenic properties, is now recognized as a multifunctional growth factor (3). It is clear that bFGF produces its biological effects in target cells by signaling through cell-surface FGF receptors. bFGF binds to all four FGF receptors. Ligand binding induces receptor dimerization and autophosphorylation, allowing binding and activation of cytoplasmic downstream target proteins, including FRS-2, PLC and Crk (4,5). The FGF signaling pathway appears to play a significant role not only in normal cell growth regulation but also in tumor development and progression (6).
Acidic FGF (aFGF or FGF1) is another extensively investigated protein of the FGF family. aFGF shares 55% DNA sequence homology with bFGF. These two growth factors are ubiquitously expressed and exhibit a wide spectrum of similiar biological activities with quantitative differences likely due to variation in receptor affinity or binding (7).
Tween is a registered trademark of ICI Americas, Inc.
Cell Signaling Technology is a trademark of Cell Signaling Technology, Inc.