#20574 TIGIT (E6L7H) Rabbit mAb
Shopping Days対象製品 対象製品の中から、まとめて購入で一部製品が無料に!
*ウェブで専用注文書を作成し、代理店へご注文ください。
をクリックすると選べます。
| | | | | | |
| --- | --- | --- | --- | --- | --- |
| #20574S | 100 μL | 56,000 | | | |
感度
分子量 (kDa)
抗体の由来
貯法
内在性
30-40
Rabbit IgG
-20℃
ウェスタンブロッティング (1:1000)、免疫沈降 (1:50)
特異性・感度
TIGIT (E6L7H) Rabbit mAb recognizes endogenous levels of total TIGIT protein. This antibody cross-reacts with an unidentified protein of 50 kDa and 75 kDa in some cell extracts.
使用抗原
Monoclonal antibody is produced by immunizing animals with a synthetic peptide corresponding to residues surrounding Val228 of human TIGIT protein.
ホモロジー (相同性) 検索をご希望の場合 >>>
ホモロジー検索をご要望の際は、ご希望のサンプル種のアミノ酸配列とともにお問合せください。
※下記の社内データは、すべて20574 の推奨プロトコールで実験した結果です。
Western Blotting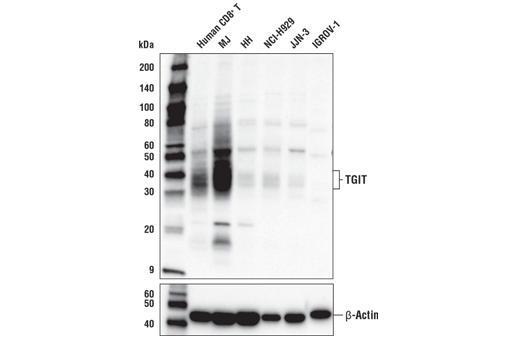 Western blot analysis of extracts from various human cells using TIGIT (E6L7H) Rabbit mAb (upper) and β-Actin (D6A8) Rabbit mAb #8457 (lower). CD8+ T cells were purified from human blood and stimulated for 7 days using beads coated with CD3 and CD28 antibodies in the presence of human interleukin-2 (hIL-2) #8907 (6.7 ng/ml).
IP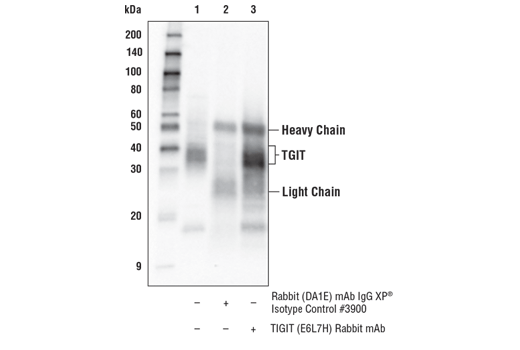 Immunoprecipitation of TIGIT protein from MJ cell extracts. Lane 1 is 10% input, lane 2 is Rabbit (DA1E) mAb IgG XP® Isotype Control #3900, and lane 3 is TIGIT (E6L7H) Rabbit mAb. Western blot analysis was performed using TIGIT (E6L7H) Rabbit mAb.
T-cell immunoreceptor with Ig and ITIM domains (TIGIT), also known as VSIG9, VSTM3, and WUCAM, is a member of the poliovirus receptor family of immunoglobulin proteins (1-3). TIGIT is expressed at low levels on subsets of T cells and NK cells, and is upregulated at the protein level following activation of these cells (1-4). TIGIT marks exhausted T cells in the tumor microenvironment (5) and during human immunodeficiency virus (HIV) infection (6). Research has shown TIGIT interacts with several receptors expressed on antigen presenting cells, such as dendritic cells and macrophages, as well as tumor cells and cells of the microenvironment. TIGIT binds with high affinity to PVR/CD155, and with low affinity to Nectin-2/CD112 and Nectin-3/CD113 (2,4,7). Upon binding to its ligands, TIGIT suppresses T cell activation, and inhibits T and NK cell cytotoxicity. This inhibition can be blocked using monoclonal antibodies directed at the ITIM domain of TIGIT, resulting in rejuvenated antigen-specific CD8+ T cell responses in tumors and during HIV infection (5,6,8). Three potential isoforms of TIGIT have been computationally mapped (9).
Tween is a registered trademark of ICI Americas, Inc.
XP is a registered trademark of Cell Signaling Technology, Inc.
Cell Signaling Technology is a trademark of Cell Signaling Technology, Inc.