#20767 Syk (4D10) Mouse mAb (Alexa Fluor® 488 Conjugate)
Shopping Days対象製品 対象製品の中から、まとめて購入で一部製品が無料に!
*ウェブで専用注文書を作成し、代理店へご注文ください。
をクリックすると選べます。
| | | | | | |
| --- | --- | --- | --- | --- | --- |
| #20767S | 100 μL | 63,000 | | | |
感度
抗体の由来
貯法
内在性
Mouse IgG2a
4℃
特異性・感度
内在性レベルのSyk タンパク質を検出します。
使用抗原
ヒトのSyk タンパク質のTrp330 周辺領域 (合成ペプチド)
ホモロジー (相同性) 検索をご希望の場合 >>>
ホモロジー検索をご要望の際は、ご希望のサンプル種のアミノ酸配列とともにお問合せください。
※下記の社内データは、すべて20767 の推奨プロトコールで実験した結果です。
Flow Cytometry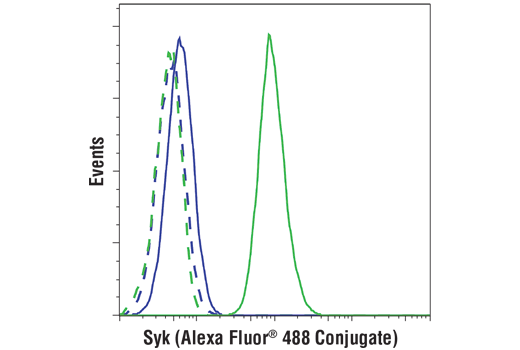 Flow cytometric analysis of ACHN cells (blue) and Ramos cells (green) using Syk (4D10) Mouse mAb (Alexa Fluor® 488 Conjugate) (solid lines) or a concentration-matched Rabbit (DA1E) mAb IgG XP® Isotype Control (Alexa Fluor® 488 Conjugate) #2975 (dashed lines).
Syk is a protein tyrosine kinase that plays an important role in intracellular signal transduction in hematopoietic cells (1-3). Syk interacts with immunoreceptor tyrosine-based activation motifs (ITAMs) located in the cytoplasmic domains of immune receptors (4). It couples the activated immunoreceptors to downstream signaling events that mediate diverse cellular responses, including proliferation, differentiation, and phagocytosis (4). There is also evidence of a role for Syk in nonimmune cells and investigators have indicated that Syk is a potential tumor suppressor in human breast carcinomas (5). Tyr323 is a negative regulatory phosphorylation site within the SH2-kinase linker region in Syk. Phosphorylation at Tyr323 provides a direct binding site for the TKB domain of Cbl (6,7). Tyr352 of Syk is involved in the association of PLCγ1 (8). Tyr525 and Tyr526 are located in the activation loop of the Syk kinase domain; phosphorylation at Tyr525/526 of human Syk (equivalent to Tyr519/520 of mouse Syk) is essential for Syk function (9).
The Alexa Fluor dye conjugates in this product are sold under license from Life Technologies Corporation, for research use only excluding use in combination with DNA microarrays and high content screening (HCS).
XP is a registered trademark of Cell Signaling Technology, Inc.
Alexa Fluor is a registered trademark of Life Technologies Corporation.
Cell Signaling Technology is a trademark of Cell Signaling Technology, Inc.
This product is provided under an intellectual property license from Life Technologies Corporation. The transfer of this product is conditioned on the buyer using the purchased product solely in research conducted by the buyer, excluding contract research or any fee for service research, and the buyer must not (1) use this product or its components for (a) diagnostic, therapeutic or prophylactic purposes; (b) testing, analysis or screening services, or information in return for compensation on a per-test basis; or (c) manufacturing or quality assurance or quality control, and/or (2) sell or transfer this product or its components for resale, whether or not resold for use in research. For information on purchasing a license to this product for purposes other than as described above, contact Life Technologies Corporation, 5791 Van Allen Way, Carlsbad, CA 92008 USA or outlicensing@lifetech.com.