#23843 PathScan® Phospho-Btk (Tyr223) Sandwich ELISA kit
| | | | | |
| --- | --- | --- | --- | --- |
| #23843C | 1 Kit | 105,000 | | |
Note: 12 8-well modules – Each module is designed to break apart for 8 tests.
Storage: Kit should be stored at 4°C with the exception of Cell Lysis Buffer, which is stored at –20°C (packaged separately).
特異性・感度
PathScan® Phospho-Btk (Tyr223) Sandwich ELISA Kit detects endogenous levels of Btk protein phoshorylated at Tyr223 in human cells. The kit sensitivity is shown in Figure 1. This kit detects proteins from the indicated species, as determined through in-house testing, but may also detect homologous proteins from other species.
ELISA - Western correlation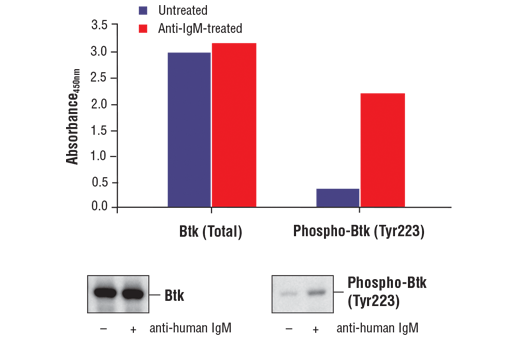 Figure 1. Treatment of Ramos cells with anti-human IgM stimulates phosphorylation of Btk at Tyr223, detected by
PathScan® Phospho-Btk (Tyr223) Sandwich ELISA Kit #23843, but does not affect the level of total Btk, detected by
PathScan® Total Btk Sandwich ELISA Kit #24547. The absorbance readings at 450 nm are shown in the top figure, while the corresponding western blots using Btk (D3H5) Rabbit mAb #8547 (left panel) or Phospho-Btk (Tyr223) (D9T6H) Rabbit mAb #87141 (right panel) are shown in the bottom figure.
Sensitivity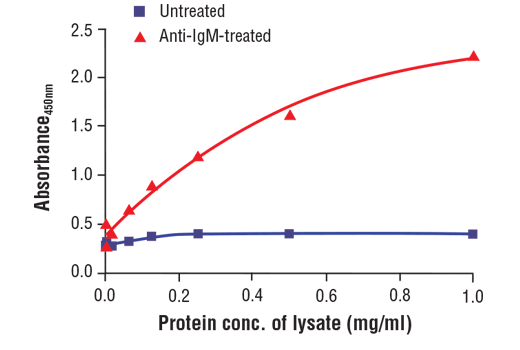 Figure 2. The relationship between the protein concentration of lysates from untreated and anti-human IgM-treated Ramos cells and the absorbance at 450 nm as detected by the PathScan® Phospho-Btk (tyr223) Sandwich ELISA Kit is shown. Starved Ramos cells (1.0 x106 cells/per ml) were treated with 12 ug/ml of anti-human IgM for 10 min. at 37ºC and then harvested and lysed.
Bruton's tyrosine kinase (Btk) is a member of the Btk/Tec family of cytoplasmic tyrosine kinases. Like other Btk family members, it contains a pleckstrin homology (PH) domain and Src homology SH3 and SH2 domains. Btk plays an important role in B cell development (1,2). Activation of B cells by various ligands is accompanied by Btk membrane translocation mediated by its PH domain binding to phosphatidylinositol-3,4,5-trisphosphate (3-5). The membrane-localized Btk is active and associated with transient phosphorylation of two tyrosine residues, Tyr551 and Tyr223. Tyr551 in the activation loop is transphosphorylated by the Src family tyrosine kinases, leading to autophosphorylation at Tyr223 within the SH3 domain, which is necessary for full activation (6,7). The activation of Btk is negatively regulated by PKCβ through phosphorylation of Btk at Ser180, which results in reduced membrane recruitment, transphosphorylation, and subsequent activation (8). The PKC inhibitory signal is likely to be a key determinant of the B cell receptor signaling threshold to maintain optimal Btk activity (8).
PathScan is a trademark of Cell Signaling Technology, Inc.
FastScan™ ELISA is a trademark of Cell Signaling Technology, Inc.
Cell Signaling Technology is a trademark of Cell Signaling Technology, Inc.