#29872 Transthyretin (D8T4Q) Rabbit mAb
Shopping Days対象製品 対象製品の中から、まとめて購入で一部製品が無料に!
*ウェブで専用注文書を作成し、代理店へご注文ください。
をクリックすると選べます。
| | | | | | |
| --- | --- | --- | --- | --- | --- |
| #29872S | 100 μL | 56,000 | | | |
感度
分子量 (kDa)
抗体の由来
貯法
内在性
15, 30, 45, 60
Rabbit IgG
-20℃
特異性・感度
Transthyretin (D8T4Q) Rabbit mAb recognizes endogenous levels of total Transthyretin protein in its monomeric, dimeric, trimeric, and tetrameric forms.
使用抗原
Monoclonal antibody is produced by immunizing animals with a synthetic peptide corresponding to residues surrounding Pro106 of human Transthyretin protein.
ホモロジー (相同性) 検索をご希望の場合 >>>
ホモロジー検索をご要望の際は、ご希望のサンプル種のアミノ酸配列とともにお問合せください。
※下記の社内データは、すべて29872 の推奨プロトコールで実験した結果です。
Western Blotting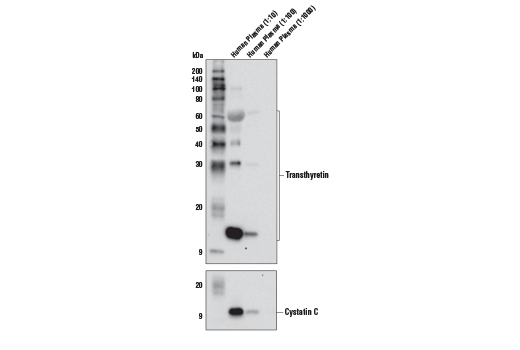 Western blot analysis of extracts from titrations of human plasma using Transthyretin (D8T4Q) Rabbit mAb (upper) and Cystatin C (D6U3E) Rabbit mAb #24840 (lower).
Transthyretin (TTR) is a highly conserved homotetremric protein that is synthesized in the liver and choroid plexus of the brain. TTR was originally discovered as a protein found in human plasma and cerebrospinal fluid (CSF) (1). TTR transports thyroid hormones (TH) and retinol by binding to retinol-binding protein (2). Although TTR is synthesized in the liver and choroid plexus, TTR is detected in blood plasma and cerebrospinal fluid migrating as monomers, dimers, and tetramers. Beyond its function as a carrier protein of TH and retinol in plasma and CSF, several additional TTR functions have been described, including proteolytic cleavage of specific substrates like apolipoprotein, neuropeptide Y (NPY), and APP (3, 4, 5). These neuronal substrates suggest a functional role for TTR in the central nervous system. Consistent with a CNS function, TTR null mice exhibit memory impairments and altered sensorimotor behavior (6, 7). TTR may also be linked to neurodegenerative disease: TTR levels in Alzheimer's disease (AD) patients are negatively correlated with disease progression, and a protective role for TTR, at least in AD mouse models, has been described (8, 9). TTR itself may play a more direct role in disease as gain-of-function mutations in TTR cause the protein to misfold and aggregate into amyloid fibrils, contributing to autosomal dominant hereditary amyloidosis in diseases such as familial amyloid polyneuropathy, familial amyloid cardiomyopathy, and familial leptomeningeal amyloidosis (10).
Tween is a registered trademark of ICI Americas, Inc.
Cell Signaling Technology is a trademark of Cell Signaling Technology, Inc.