#33360 SMARCE1/BAF57 (E6H5J) Rabbit mAb
Shopping Days対象製品 対象製品の中から、まとめて購入で一部製品が無料に!
*ウェブで専用注文書を作成し、代理店へご注文ください。
をクリックすると選べます。
| | | | | | |
| --- | --- | --- | --- | --- | --- |
| #33360S | 100 μL | 56,000 | | | |
感度
分子量 (kDa)
抗体の由来
貯法
内在性
57
Rabbit IgG
-20℃
| 種交差性 (社内試験済) | |
| --- | --- |
| ヒト、マウス、ラット、サル | - |
ウェスタンブロッティング (1:1000)、免疫沈降 (1:100)、クロマチン免疫沈降 (1:50)
特異性・感度
内在性レベルのSMARCE1/BAF57 タンパク質を検出します。
使用抗原
ヒトのSMARCE1/BAF57 タンパク質のLeu34 周辺領域 (合成ペプチド)
ホモロジー (相同性) 検索をご希望の場合 >>>
ホモロジー検索をご要望の際は、ご希望のサンプル種のアミノ酸配列とともにお問合せください。
※下記の社内データは、すべて33360 の推奨プロトコールで実験した結果です。
Western Blotting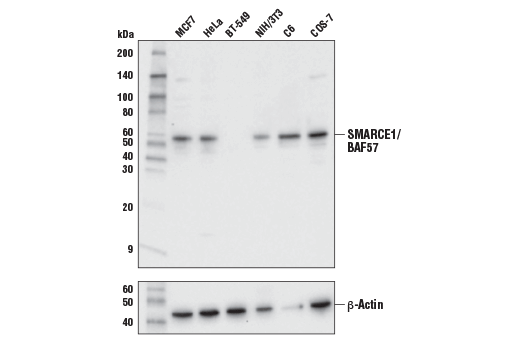 Western blot analysis of extracts from various cell lines using SMARCE1/BAF57 (E6H5J) Rabbit mAb (upper) and β-Actin (D6A8) Rabbit mAb #8457 (lower). BT-549 is a breast ductal carcinoma cell line that lacks expression of SMARCE1/BAF57.
IP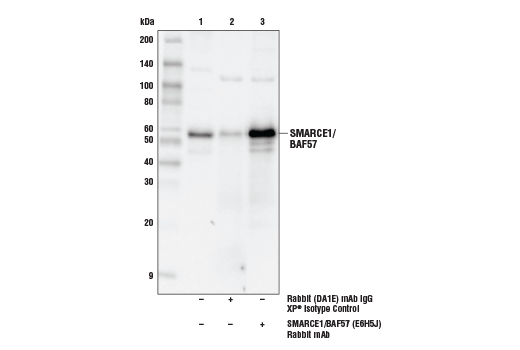 Immunoprecipiation of SMARCE1/BAF57 from MCF7 cell extracts. Lane 1 is 10% input, lane 2 is Rabbit (DA1E) mAb IgG XP® Isotype Control #3900, and lane 3 is SMARCE1/BAF57 (E6H5J) Rabbit mAb. Western blot analysis was performed using SMARCE1/BAF57 (E6H5J) Rabbit mAb.
Chromatin IP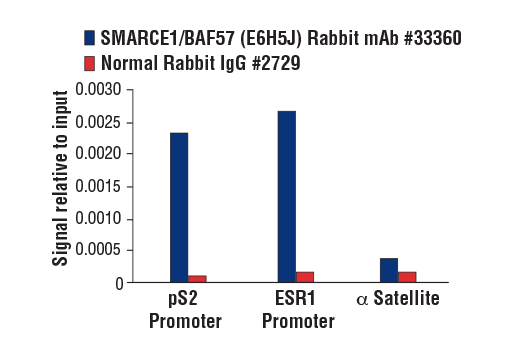 Chromatin immunoprecipitations were performed with cross-linked chromatin from MCF7 cells grown in phenol red-free medium and 5% charcoal-stripped FBS for 4 d followed by treatment with β-estradiol (10 nM, 45 min), and either SMARCE1/BAF57 (E6H5J) Rabbit mAb or Normal Rabbit IgG #2729 using SimpleChIP® Plus Enzymatic Chromatin IP Kit (Magnetic Beads) #9005. The enriched DNA was quantified by real-time PCR using SimpleChIP® Human pS2 Promoter Primers #9702, SimpleChIP® Human ESR1 Promoter Primers #9673, and SimpleChIP® Human α Satellite Repeat Primers #4486. The amount of immunoprecipitated DNA in each sample is represented as signal relative to the total amount of input chromatin, which is equivalent to one.
The modulation of chromatin structure is an essential component in the regulation of transcriptional activation and repression. Modifications can be made by at least two evolutionarily conserved strategies, through the disruption of histone-DNA contacts by ATP-dependent chromatin remodelers, or by histone tail modifications including methylation and acetylation. One of the four classes of ATP-dependent histone remodelers is the SWI/SNF complex, the central catalytic subunit of which is Brg1 or the highly related protein hBRM (1). This SWI/SNF complex contains varying subunits but its association with either Brg1 or hBRM remains constant (1). SWI/SNF complexes have been shown to regulate gene activation, cell growth, the cell cycle and differentiation (1). Brg1/hBRM have been shown to regulate transcription through enhancing transcriptional activation of glucocorticoid receptors (2). Although usually associated with transcriptional activation, Brg1/hBRM have also been found in complexes associated with transcriptional repression including with HDACs, Rb and Tif1β (3-5). Brg1/hBRM plays a vital role in the regulation of gene transcription during early mammalian embryogenesis. In addition, Brg1/hBRM also play a role as a tumor suppressors and Brg1 is mutated in several tumor cell lines (6-8).
SMARCE1/BAF57 is a core component of the SWI/SNF complex and directly binds other transcription factors and co-factors, including androgen receptor and estrogen receptor. Binding of SMARCE1/BAF57 can directly affect the transcriptional activity of nuclear receptors, influencing the expression of target genes (9-12). Mutations of SMARCE1/BAF57 have been described in Coffin-Siris syndrome (13). SMARCE1/BAF57 has also been shown to contribute to invasion of some early-stage breast lesions by forming a complex with ILF3, an event independent of the SWI/SNF complex (14).
Tween is a registered trademark of ICI Americas, Inc.
XP is a registered trademark of Cell Signaling Technology, Inc.
SimpleChIP is a registered trademark of Cell Signaling Technology, Inc.
Cell Signaling Technology is a trademark of Cell Signaling Technology, Inc.