#41965 SignalSlide® Mouse PD-L1 IHC Controls
Shopping Days対象製品 対象製品の中から、まとめて購入で一部製品が無料に!
*ウェブで専用注文書を作成し、代理店へご注文ください。
をクリックすると選べます。
| | | | | | |
| --- | --- | --- | --- | --- | --- |
| #41965S | 1 Pack | 28,000 | | | |
* 本製品は受注生産品で、有効期限は製造後2ヶ月です。
製品概要
各コントロールスライドにはホルマリン固定/パラフィン包埋したマウスPD-L1 陽性のbone marrow-derived macrophage と、マウスPD-L1 陰性のRaw 264.7 細胞が含まれます。マウスPD-L1 タンパク質の免疫染色のコントロールとして使用します。

To be used with antibodies: 64988.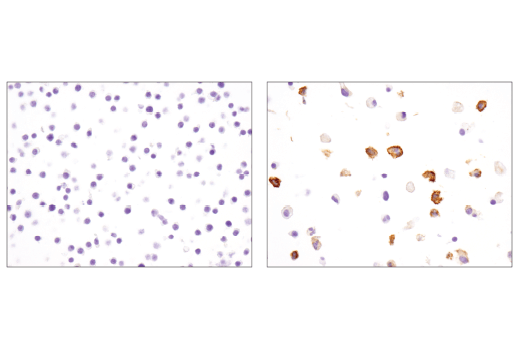 Immunohistochemical analysis of paraffin-embedded Raw 264.7 cell pellet (left, negative) or mouse bone marrow-derived macrophages cell pellet (right, positive) using PD-L1 (D5V3B) (Mouse specific; IHC specific) Rabbit mAb #64988.
Programmed cell death 1 ligand 1 (PD-L1, B7-H1, CD274) is a member of the B7 family of cell surface ligands that regulate T cell activation and immune responses. The PD-L1 ligand binds the PD-1 transmembrane receptor and inhibits T cell activation. PD-L1 was discovered following a search for novel B7 protein homologs and was later shown to be expressed by antigen presenting cells, activated T cells, and tissues including placenta, heart, and lung (1-3). Similar in structure to related B7 family members, PD-L1 protein contains extracellular IgV and IgC domains and a short, cytoplasmic region. Research studies demonstrate that PD-L1 is expressed in several tumor types, including melanoma, ovary, colon, lung, breast, and renal cell carcinomas (4-6). Expression of PD-L1 in cancer is associated with tumor infiltrating lymphocytes, which mediate PD-L1 expression through the release of interferon gamma (7). Additional research links PD-L1 expression to cancers associated with viral infections (8,9).
XP is a registered trademark of Cell Signaling Technology, Inc.
SignalSlide is a registered trademark of Cell Signaling Technology, Inc.
Cell Signaling Technology is a trademark of Cell Signaling Technology, Inc.