#43161 p16 INK4A (D7C1M) Rabbit mAb (Alexa Fluor® 647 Conjugate)
Shopping Days対象製品 対象製品の中から、まとめて購入で一部製品が無料に!
*ウェブで専用注文書を作成し、代理店へご注文ください。
をクリックすると選べます。
| | | | | | |
| --- | --- | --- | --- | --- | --- |
| #43161S | 100 μL | 63,000 | | | |
感度
抗体の由来
貯法
内在性
Rabbit IgG
4℃
特異性・感度
p16 INK4A (D7C1M) Rabbit mAb (Alexa Fluor® 647 Conjugate) recognizes endogenous levels of total p16 INK4A protein. This antibody does not cross-react with p15 INK4B. This antibody is not recommended for use in immunohistochemistry.
使用抗原
Monoclonal antibody is produced by immunizing animals with a synthetic peptide corresponding to residues surrounding Ala143 of human p16 INK4A protein.
ホモロジー (相同性) 検索をご希望の場合 >>>
ホモロジー検索をご要望の際は、ご希望のサンプル種のアミノ酸配列とともにお問合せください。
※下記の社内データは、すべて43161 の推奨プロトコールで実験した結果です。
Flow Cytometry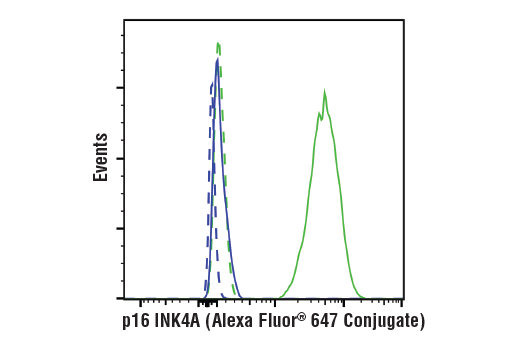 Flow cytometric analysis of MCF7 cells (blue) and HeLa cells (green) using p16 INK4A (D7C1M) Rabbit mAb (Alexa Fluor® 647 Conjugate) (solid lines) or a concentration-matched Rabbit (DA1E) mAb IgG XP® Isotype Control (Alexa Fluor® 647 Conjugate) #2985 (dashed lines).
Members of the INK4 family of cyclin dependent kinase inhibitors include p16INK4A, p15INK4B, p18INK4C and p19INK4D. The INK4 family members inhibit cyclin dependent kinases 4 and 6 (CDK4 and CDK6), causing cell cycle arrest in G1 phase. The INK4A-ARF-INK4B locus on chromosome 9p21, frequently lost in human cancer, encodes the INK4 family members p16INK5A and p15INK4B, as well as the unrelated protein, ARF (1).
p16 INK4A expression, typically repressed in the absence of stress, is thought to drive cells into senescence, and p16 INK4A expression is a commonly used marker of senescent cells (2). p16INK4A protein expression is often altered in human cancer (3,4), and high expression is currently used as a predictive biomarker in cervical cancer (5).
XP is a registered trademark of Cell Signaling Technology, Inc.
Cell Signaling Technology is a trademark of Cell Signaling Technology, Inc.
This product is provided under an intellectual property license from Life Technologies Corporation. The transfer of this product is conditioned on the buyer using the purchased product solely in research conducted by the buyer, excluding contract research or any fee for service research, and the buyer must not (1) use this product or its components for (a) diagnostic, therapeutic or prophylactic purposes; (b) testing, analysis or screening services, or information in return for compensation on a per-test basis; or (c) manufacturing or quality assurance or quality control, and/or (2) sell or transfer this product or its components for resale, whether or not resold for use in research. For information on purchasing a license to this product for purposes other than as described above, contact Life Technologies Corporation, 5791 Van Allen Way, Carlsbad, CA 92008 USA or outlicensing@lifetech.com.