#48868 IRF-3 (D9J5Q) Mouse mAb (Alexa Fluor® 647 Conjugate)
Shopping Days対象製品 対象製品の中から、まとめて購入で一部製品が無料に!
*ウェブで専用注文書を作成し、代理店へご注文ください。
をクリックすると選べます。
| | | | | | |
| --- | --- | --- | --- | --- | --- |
| #48868S | 100 μL | 63,000 | | | |
感度
抗体の由来
貯法
内在性
Mouse IgG1
4℃
特異性・感度
IRF-3 (D9J5Q) Mouse mAb (Alexa Fluor® 647 Conjugate) recognizes endogenous levels of total IRF-3 protein.
使用抗原
Monoclonal antibody is produced by immunizing animals with recombinant protein specific to human IRF-3 protein.
ホモロジー (相同性) 検索をご希望の場合 >>>
ホモロジー検索をご要望の際は、ご希望のサンプル種のアミノ酸配列とともにお問合せください。
※下記の社内データは、すべて48868 の推奨プロトコールで実験した結果です。
IF-IC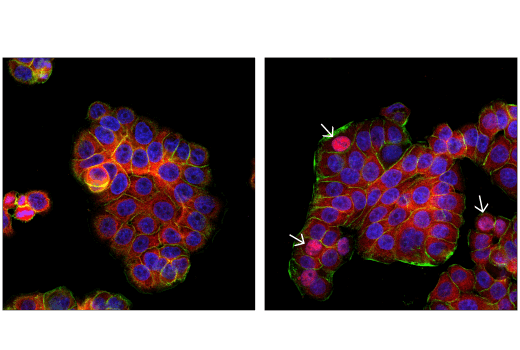 Confocal immunofluorescent analysis of HT-29 cells, mock transfected (left) or transfected with Poly(dA:dT) (2 μg/mL, 6 hr; right), using IRF-3 (D9J5Q) Mouse mAb (Alexa Fluor® 647 Conjugate) (red). Actin filaments were labeled with DyLight™ 488 Phalloidin #12935 (green). Blue = DAPI #4083 (fluorescent DNA dye). Note the nuclear translocation of IRF-3 in a subset of cells (arrows).
Interferon regulatory factors (IRFs) comprise a family of transcription factors that function within the Jak/Stat pathway to regulate interferon (IFN) and IFN-inducible gene expression in response to viral infection (1). IRFs play an important role in pathogen defense, autoimmunity, lymphocyte development, cell growth, and susceptibility to transformation. The IRF family includes nine members: IRF-1, IRF-2, IRF-9/ISGF3γ, IRF-3, IRF-4 (Pip/LSIRF/ICSAT), IRF-5, IRF-6, IRF-7, and IRF-8/ICSBP. All IRF proteins share homology in their amino-terminal DNA-binding domains. IRF family members regulate transcription through interactions with proteins that share similar DNA-binding motifs, such as IFN-stimulated response elements (ISRE), IFN consensus sequences (ICS), and IFN regulatory elements (IRF-E) (2).
Cell Signaling Technology is a trademark of Cell Signaling Technology, Inc.
DyLight is a trademark of Thermo Fisher Scientific, Inc. and its subsidiaries.
This product is provided under an intellectual property license from Life Technologies Corporation. The transfer of this product is conditioned on the buyer using the purchased product solely in research conducted by the buyer, excluding contract research or any fee for service research, and the buyer must not (1) use this product or its components for (a) diagnostic, therapeutic or prophylactic purposes; (b) testing, analysis or screening services, or information in return for compensation on a per-test basis; or (c) manufacturing or quality assurance or quality control, and/or (2) sell or transfer this product or its components for resale, whether or not resold for use in research. For information on purchasing a license to this product for purposes other than as described above, contact Life Technologies Corporation, 5791 Van Allen Way, Carlsbad, CA 92008 USA or outlicensing@lifetech.com.