#50722 H2A.Z (E9M5G) Rabbit mAb
Shopping Days対象製品 対象製品の中から、まとめて購入で一部製品が無料に!
*ウェブで専用注文書を作成し、代理店へご注文ください。
をクリックすると選べます。
| | | | | | |
| --- | --- | --- | --- | --- | --- |
| #50722S | 100 μL | 56,000 | | | |
感度
分子量 (kDa)
抗体の由来
貯法
内在性
14
Rabbit IgG
-20℃
| 種交差性 (社内試験済) | |
| --- | --- |
| ヒト、マウス、ラット、サル | - |
ウェスタンブロッティング (1:1000)、クロマチン免疫沈降 (1:50)
特異性・感度
H2A.Z (E9M5G) Rabbit mAb recognizes endogenous levels of total H2A.Z protein. This antibody does not cross-react with H2A protein.
使用抗原
Monoclonal antibody is produced by immunizing animals with a synthetic peptide corresponding to residues near the carboxy terminus of human H2A.Z protein.
ホモロジー (相同性) 検索をご希望の場合 >>>
ホモロジー検索をご要望の際は、ご希望のサンプル種のアミノ酸配列とともにお問合せください。
※下記の社内データは、すべて50722 の推奨プロトコールで実験した結果です。
Western Blotting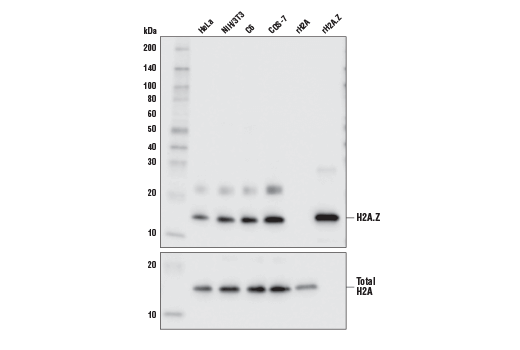 Western blot analysis of HeLa, NIH/3T3, C6, and COS-7 cell lysates, in addition to 10 ng of recombinant H2A (rH2A) and H2A.Z (rH2A.Z) proteins, using Histone H2A.Z (E9M5G) Rabbit mAb (upper) and Histone H2A (D6O3A) Rabbit mAb #12349 (lower).
Chromatin IP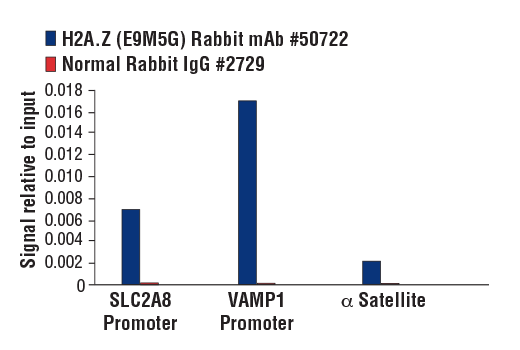 Chromatin immunoprecipitations were performed with cross-linked chromatin from A549 cells and either H2A.Z (E9M5G) Rabbit mAb or Normal Rabbit IgG #2729 using SimpleChIP® Plus Enzymatic Chromatin IP Kit (Magnetic Beads) #9005. The enriched DNA was quantified by real-time PCR using human SLC2A8 promoter primers, SimpleChIP® Human VAMP1 Promoter Primers #25921, and SimpleChIP® Human α Satellite Repeat Primers #4486. The amount of immunoprecipitated DNA in each sample is represented as signal relative to the total amount of input chromatin, which is equivalent to one.
Modulation of chromatin structure plays a critical role in the regulation of transcription in eukaryotes. The nucleosome, made up of four core histone proteins (H2A, H2B, H3 and H4), is the primary building block of chromatin. In addition to the growing number of post-translational histone modifications regulating chromatin structure, cells can also exchange canonical histones with variant histones that can directly or indirectly modulate chromatin structure (1). There are five major variants of histone H2A: canonical H2A (most abundant), H2A.X, MacroH2A, H2ABbd and H2A.Z (2). Histone H2A.Z, the most conserved variant across species, functions as both a positive and negative regulator of transcription and is important for chromosome stability (2). Several homologous protein complexes, such as SWR-C (S. cerevisiae), TIP60 (D. melanogaster) and SRCAP (mammals), have been shown to catalyze the ATP-dependent exchange of H2A.Z for H2A in the nucleosome (3,4,5). This exchange of histone H2A variants changes histone-histone interactions in the nucleosome core and alters an acidic patch on the surface of the nucleosome, resulting in changes in nucleosome stability and binding of non-histone proteins such as HP1α (6,7).
Tween is a registered trademark of ICI Americas, Inc.
SimpleChIP is a registered trademark of Cell Signaling Technology, Inc.
Cell Signaling Technology is a trademark of Cell Signaling Technology, Inc.