#51673 EED Antibody
Shopping Days対象製品 対象製品の中から、まとめて購入で一部製品が無料に!
*ウェブで専用注文書を作成し、代理店へご注文ください。
をクリックすると選べます。
| | | | | | |
| --- | --- | --- | --- | --- | --- |
| #51673S | 100 μL | 56,000 | | | |
感度
分子量 (kDa)
抗体の由来
貯法
内在性
50-70
Rabbit
-20℃
| 種交差性 (社内試験済) | |
| --- | --- |
| ヒト、マウス、ラット、サル | - |
特異性・感度
EED Antibody recognizes endogenous levels of total EED protein. This antibody also cross-reacts with an unidentified protein of 42 kDa.
使用抗原
Polyclonal antibodies are produced by immunizing animals with a synthetic peptide corresponding to residues near the amino terminus of human EED protein. Antibodies are purified by protein A and peptide affinity chromatography.
ホモロジー (相同性) 検索をご希望の場合 >>>
ホモロジー検索をご要望の際は、ご希望のサンプル種のアミノ酸配列とともにお問合せください。
※下記の社内データは、すべて51673 の推奨プロトコールで実験した結果です。
Western Blotting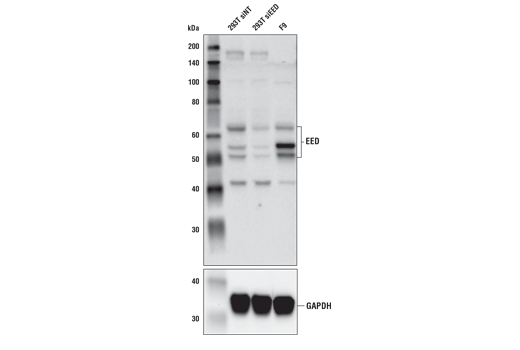 Western blot analysis of extracts from 293T cells, either transfected with nontargeting siRNA (293T siNT) or siRNA targeting EED (293T siEED), and F9 cells using EED Antibody (upper) and GAPDH (D16H11) XP® Rabbit mAb #5174 (lower).
The polycomb group (PcG) proteins contribute to the maintenance of cell identity, stem cell self-renewal, cell cycle regulation and oncogenesis by maintaining the silenced state of genes that promote cell lineage specification, cell death and cell-cycle arrest (1-4). PcG proteins exist in two complexes that cooperate to maintain long-term gene silencing through epigenetic chromatin modifications. The first complex, EED-EZH2, is recruited to genes by DNA-binding transcription factors and methylates histone H3 on Lys27. Methylation of Lys27 facilitates the recruitment of the second complex, PRC1, which ubiquitinylates histone H2A on Lys119 (5). Embryonic ectoderm development protein (EED) is a component of the PRC2 complex, which together with Ezh2 and SUZ12 is absolutely required for histone methyl-transferase activity (6). EED, SUZ12 and EZH2 are overexpressed in various types of cancer, including tumors of the colon, breast, prostate and ovary (7-9).
Tween is a registered trademark of ICI Americas, Inc.
CST is a trademark of Cell Signaling Technology, Inc.
XP is a registered trademark of Cell Signaling Technology, Inc.