#53500 Galectin-9 (D9R4A) XP® Rabbit mAb (Alexa Fluor® 488 Conjugate)
Shopping Days対象製品 対象製品の中から、まとめて購入で一部製品が無料に!
*ウェブで専用注文書を作成し、代理店へご注文ください。
をクリックすると選べます。
| | | | | | |
| --- | --- | --- | --- | --- | --- |
| #53500S | 100 μL | 74,000 | | | |
感度
抗体の由来
貯法
内在性
Rabbit IgG
4℃
特異性・感度
内在性レベルのGalectin-9 タンパク質を検出します。
使用抗原
ヒトのGalectin-9 タンパク質の組換えタンパク質
ホモロジー (相同性) 検索をご希望の場合 >>>
ホモロジー検索をご要望の際は、ご希望のサンプル種のアミノ酸配列とともにお問合せください。
※下記の社内データは、すべて53500 の推奨プロトコールで実験した結果です。
Flow Cytometry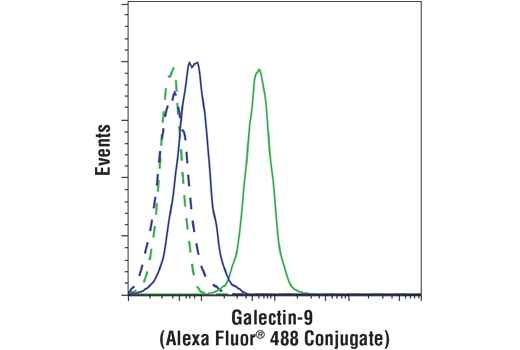 Flow cytometric analysis of Panc-1 cells (blue) and U-937 cells (green) using Galectin-9 (D9R4A) XP® Rabbit mAb (Alexa Fluor® 488 Conjugate) (solid lines) or a concentration-matched Rabbit (DA1E) mAb IgG XP® Isotype Control (Alexa Fluor® 488 Conjugate) #2975 (dashed lines).
Galectins are a family of β-galactose binding proteins that are characterized by an affinity for poly-N-acetyllactosamine-enriched glycoconjugates and a carbohydrate-binding site (1,2). Members of the galectin family have been implicated in a variety of biological functions, including cell adhesion (3), growth regulation (4), cytokine production (5), T-cell apoptosis (6), and immune responses (7).
Galectin-9 is induced by proinflammatory stimuli, including IFN-γ, TNF-α, and TLR ligands, and regulates various immune responses through interaction with its ligand TIM-3 (8, 9). Binding of galectin-9 to TIM-3 expressed by Th1 CD4 T cells resulted in T cell death (9). On the other hand, galectin-9 treatment of tumor-bearing mice increased the number of IFN-γ-producing TIM-3+ CD8 T cells and TIM-3+ dendritic cells (10). Transgenic overexpression of either TIM-3 or galectin-9 in mice led to an increase in cells with a myeloid-derived suppressor cell phenotype and inhibition of immune responses (11). CD44 is also proposed to be a receptor for galectin-9, and interaction of galectin-9 with CD44 expressed by induced regulatory T (iTreg) cells enhanced the stability of function of iTreg cells. In addition, galectin-9 was recently demonstrated to bind Dectin-1 expressed by pancreatic ductal adenocarcinoma-infiltrating macrophages, resulting in tolerogenic macrophage reprogramming and suppression of anti-tumor immunity. Increased galectin-9 expression has been observed in several cancer types, including lung, liver, breast, and kidney (12). Alternative splicing of the galectin-9 transcript leads to several isoforms (13).
The Alexa Fluor dye conjugates in this product are sold under license from Life Technologies Corporation, for research use only excluding use in combination with DNA microarrays and high content screening (HCS).
XP is a registered trademark of Cell Signaling Technology, Inc.
Alexa Fluor is a registered trademark of Life Technologies Corporation.
Cell Signaling Technology is a trademark of Cell Signaling Technology, Inc.
This product is provided under an intellectual property license from Life Technologies Corporation. The transfer of this product is conditioned on the buyer using the purchased product solely in research conducted by the buyer, excluding contract research or any fee for service research, and the buyer must not (1) use this product or its components for (a) diagnostic, therapeutic or prophylactic purposes; (b) testing, analysis or screening services, or information in return for compensation on a per-test basis; or (c) manufacturing or quality assurance or quality control, and/or (2) sell or transfer this product or its components for resale, whether or not resold for use in research. For information on purchasing a license to this product for purposes other than as described above, contact Life Technologies Corporation, 5791 Van Allen Way, Carlsbad, CA 92008 USA or outlicensing@lifetech.com.