#60968 ZBP1 Antibody
Shopping Days対象製品 対象製品の中から、まとめて購入で一部製品が無料に!
*ウェブで専用注文書を作成し、代理店へご注文ください。
をクリックすると選べます。
| | | | | | |
| --- | --- | --- | --- | --- | --- |
| #60968S | 100 μL | 56,000 | | | |
感度
分子量 (kDa)
抗体の由来
貯法
内在性
44, 58
Rabbit
-20℃
ウェスタンブロッティング (1:1000)、免疫沈降 (1:50)
特異性・感度
ZBP1 Antibody recognizes endogenous levels of total ZBP1 protein. A band of unknown identity is detected at around 19 kDa.
使用抗原
Polyclonal antibodies are produced by immunizing animals with a synthetic peptide corresponding to residues surrounding Gln372 of human ZBP1 protein. Antibodies are purified by protein A and peptide affinity chromatography.
ホモロジー (相同性) 検索をご希望の場合 >>>
ホモロジー検索をご要望の際は、ご希望のサンプル種のアミノ酸配列とともにお問合せください。
※下記の社内データは、すべて60968 の推奨プロトコールで実験した結果です。
Western Blotting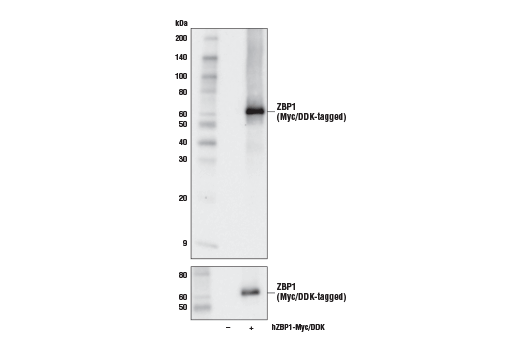 Western blot analysis of extracts from 293T cells, mock transfected (-) or transfected with a construct expressing Myc/DDK-tagged full-length human ZBP1 (hZBP1-Myc/DDK; +), using ZBP1 Antibody (upper) or Myc Tag (71D10) Rabbit mAb #2278 (lower).
Western Blotting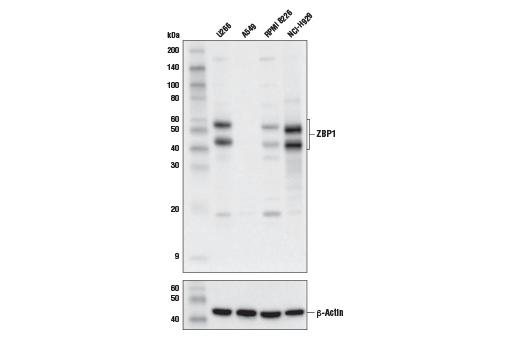 Western blot analysis of extracts from various cell lines using ZBP1 Antibody (upper) or β-Actin (D6A8) Rabbit mAb #8457 (lower). Based on RNA-seq data, ZBP1 is predicted not to be expressed in A549 cells.
IP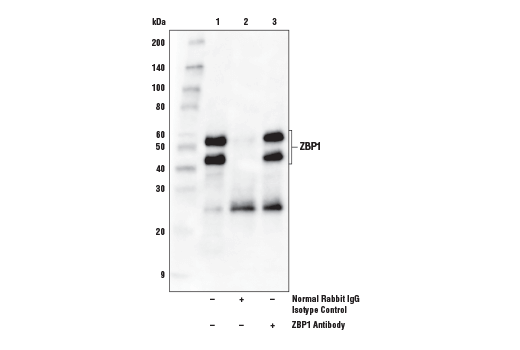 Immunoprecipitation of ZBP1 from NCI-H929 cell extracts. Lane 1 is 10% input, lane 2 is Normal Rabbit IgG #2729, and lane 3 is ZBP1 Antibody. Western blot was performed using ZBP1 Antibody. Mouse Anti-rabbit IgG (Conformation Specific) (L27A9) mAb (HRP-Conjugate) #5127 was used as a secondary antibody.
ZBP1 (Z-DNA binding protein 1), also referred to as DAI (DNA-dependent activator of IFN-regulatory factors) and DLM-1, is a nucleotide binding protein that plays a role in tumorigenesis and innate immune responses to viral infection (1). It is expressed at high levels in lymphatic tissues and intestine and is induced in macrophages by interferon gamma or by LPS (2,3). It contains two amino terminal Z-alpha domains that bind to left-handed Z-DNA and Z-RNA (4,5). In addition, an adjacent domain binds right-handed B-DNA that allows for it to function as a cytosolic DNA sensor in innate immune responses, triggering activation of TBK1 and IRF-3, and subsequent production of type I interferons (6,7). Furthermore, ZBP1 can trigger the activation of NF-κB through interaction with the RIP homotypic interaction motif (RHIM) of RIPK1 and RIPK3 (8). ZBP1 binding to RIPK3 can also induce a process of programmed necrosis termed necroptosis (9). In contrast, its interaction with RIPK1 can repress necroptosis (10,11). The mRNA binding activity of ZBP1 is also thought to play a role in tumorigenesis. ZBP1 is repressed in metastatic breast cancer, which leads to dysregulation of mRNA targets involved in proliferation and metastasis (12,13).
Tween is a registered trademark of ICI Americas, Inc.
Cell Signaling Technology is a trademark of Cell Signaling Technology, Inc.