#61011 FAM134B Antibody
Shopping Days対象製品 対象製品の中から、まとめて購入で一部製品が無料に!
*ウェブで専用注文書を作成し、代理店へご注文ください。
をクリックすると選べます。
| | | | | | |
| --- | --- | --- | --- | --- | --- |
| #61011S | 100 μL | 56,000 | | | |
感度
分子量 (kDa)
抗体の由来
貯法
内在性
70
Rabbit
-20℃
ウェスタンブロッティング (1:1000)、免疫沈降 (1:50)
特異性・感度
FAM134B Antibody recognizes endogenous levels of total FAM134B protein.
使用抗原
Polyclonal antibodies are produced by immunizing animals with a synthetic peptide corresponding to residues near the amino terminus of human FAM134B protein. Antibodies are purified by protein A and peptide affinity chromatography.
ホモロジー (相同性) 検索をご希望の場合 >>>
ホモロジー検索をご要望の際は、ご希望のサンプル種のアミノ酸配列とともにお問合せください。
※下記の社内データは、すべて61011 の推奨プロトコールで実験した結果です。
Western Blotting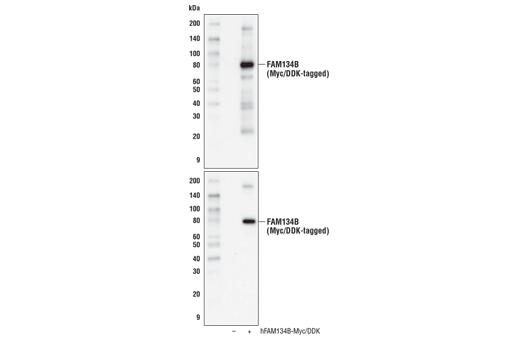 Western blot analysis of extracts from 293T cells, mock transfected (-) or transfected with a construct expressing Myc/DDK-tagged full-length human FAM134B (hFAM134B-Myc/DDK; +), using FAM134B Antibody (upper) or Myc-Tag (71D10) Rabbit mAb #2278 (lower).
Western Blotting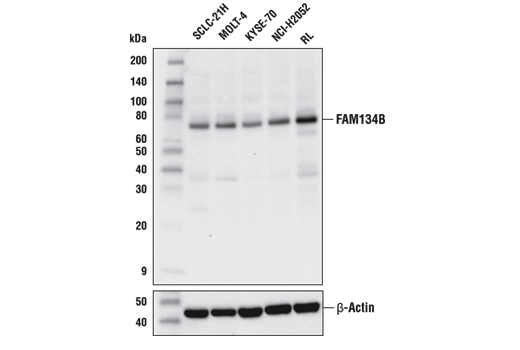 Western blot analysis of extracts from various cell lines using FAM134B Antibody (upper) or β-Actin (D6A8) Rabbit mAb #8457 (lower).
IP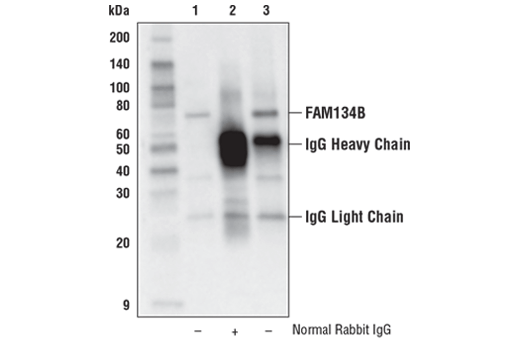 Immunoprecipitation of FAM134B from MOLT-4 cell lysates. Lane 1 is 10% input, lane 2 is Normal Rabbit IgG #2729, and lane 3 is FAM134B Antibody. Western blot was performed using FAM134B Antibody. Anti-rabbit IgG, HRP-linked Antibody #7074 was used as a secondary antibody.
FAM134B (family with sequence similarity 134, member B), also referred to as JK-1 and RETREG1, is a cis-Golgi endoplasmic reticulum (ER) transmembrane protein that plays a role in ER homeostasis and may contribute to several human diseases (1). FAM134B contains a conserved LC3 interacting domain (LIR) that facilitates binding to LC3 and GABARAP family members and targets impaired ER to the autophagsome for degradation by ER-phagy (2). Deletion of FAM134B leads to ER expansion and stress-induced apoptosis (2). Expression of FAM134B has been linked to a number of pathological conditions, including viral infection, cancer, and neuronal disorders (1). FAM134B can potentially inhibit viral infection, as demonstrated by studies of FAM134B knockouts that resulted in significantly higher rates of Ebola virus replication (3). Mutations in FAM134B that lead to an accumulation of mis-folded proteins have also been associated with neuronal sensory disorders (2, 4, 5). The expression and mutational state of FAM134B can also have varying effects on cancer. Oncogenic effects of FAM134B were described in esophageal squamous carcinoma; whereas, it appears to have tumor suppressor activity in colorectal cancer (6-8).
Tween is a registered trademark of ICI Americas, Inc.
Cell Signaling Technology is a trademark of Cell Signaling Technology, Inc.