#65127 WHSC1 (D4Z8Q) Rabbit mAb
Shopping Days対象製品 対象製品の中から、まとめて購入で一部製品が無料に!
*ウェブで専用注文書を作成し、代理店へご注文ください。
をクリックすると選べます。
| | | | | | |
| --- | --- | --- | --- | --- | --- |
| #65127S | 100 μL | 56,000 | | | |
感度
分子量 (kDa)
抗体の由来
貯法
内在性
66, 152
Rabbit IgG
-20℃
ウェスタンブロッティング (1:1000)、免疫沈降 (1:200)
特異性・感度
WHSC1 (D4Z8Z) Rabbit mAb recognizes endogenous levels of total WHSC1 protein. Based on antigen sequence, this antibody should detect WHSC1 Isoform II (UniProt O96028-1) and REIIBP (UniProt O96028-4). This antibody does not detect Isoform I (UniProt O96028-3).
使用抗原
Monoclonal antibody is produced by immunizing animals with recombinant protein specific to the carboxy terminus of human WHSC1 protein.
ホモロジー (相同性) 検索をご希望の場合 >>>
ホモロジー検索をご要望の際は、ご希望のサンプル種のアミノ酸配列とともにお問合せください。
※下記の社内データは、すべて65127 の推奨プロトコールで実験した結果です。
Western Blotting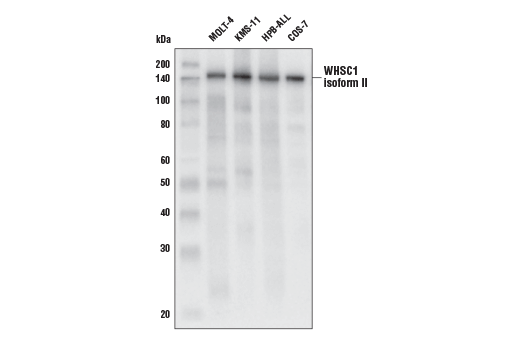 Western blot analysis of extracts from various cell lines using WHSC1 (D4Z8Q) Rabbit mAb.
IP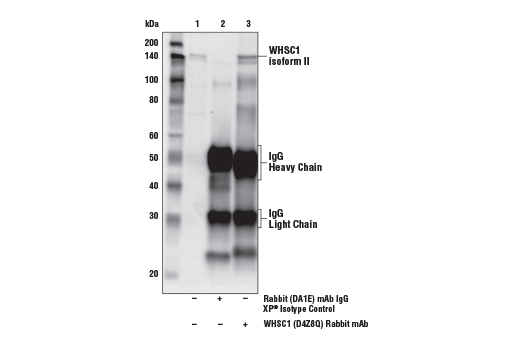 Immunoprecipitation of WHSC1 from MOLT-4 cell extracts. Lane 1 is 10% input, lane 2 is Rabbit (DA1E) mAb IgG XP® Isotype Control #3900, and lane 3 is WHSC1 (D4Z8Q) Rabbit mAb. Western blot analysis was performed using WHSC1 (D4Z8Q) Rabbit mAb.
Wolf-Hirschhorn syndrome candidate protein 1 (WHSC1), also known as Nuclear SET domain-containing protein 2 (NSD2) and Multiple myeloma SET domain-containing protein (MMSET), is a histone methyltransferase protein that catalyzes the di-methylation of histone H3 Lys36, a mark that is associated with transcriptionally active regions of the genome (1,2). WHSC1 haploinsufficiency is implicated in the developmental disorder known as Wolf-Hirshchorn syndrome (WHS), which is characterized by growth and mental retardation, and congenital heart defects (3). In addition, WHSC1 is overexpressed and associated with poor prognosis in a large variety of human cancers, including neuroblastoma, and ovarian, hepatocellular, endometrial, and colorectal carcinoma (4-8). In multiple myeloma, 15-20% of all patients show overexpression of WHSC1 due to a t(4;14)(p16.3;q32) chromosomal translocation that places the WHSC1 gene upstream of a strong enhancer (2). The WHSC1 gene encodes for three major protein isoforms. Isoform II is the full-length protein containing 1365 amino acids. Isoform I, which is generated by alternative splicing, is identical to the N-terminal 647 amino acids of isoform II. A third isoform, known as REIIBP, is generated from a transcript initiating in intron 9 of the WHSC1 locus and is identical to the C-terminal 584 amino acids of isoform II.
Tween is a registered trademark of ICI Americas, Inc.
XP is a registered trademark of Cell Signaling Technology, Inc.
Cell Signaling Technology is a trademark of Cell Signaling Technology, Inc.