#70551 TREM2 (E9U8L) Rabbit mAb (Amino-terminal Antigen)
Shopping Days対象製品 対象製品の中から、まとめて購入で一部製品が無料に!
*ウェブで専用注文書を作成し、代理店へご注文ください。
をクリックすると選べます。
| | | | | | |
| --- | --- | --- | --- | --- | --- |
| #70551S | 100 μL | 56,000 | | | |
感度
分子量 (kDa)
抗体の由来
貯法
内在性
28
Rabbit IgG
-20℃
特異性・感度
TREM2 (E9U8L) Rabbit mAb (Amino-terminal Antigen) recognizes endogenous levels of total TREM2 protein. This protein does not cross-react with mouse TREM2. A non-specific band of unknown origin is observed migrating at ~75 kDa.
使用抗原
Monoclonal antibody is produced by immunizing animals with recombinant protein specific to the amino terminus of human TREM2 protein.
ホモロジー (相同性) 検索をご希望の場合 >>>
ホモロジー検索をご要望の際は、ご希望のサンプル種のアミノ酸配列とともにお問合せください。
※下記の社内データは、すべて70551 の推奨プロトコールで実験した結果です。
Western Blotting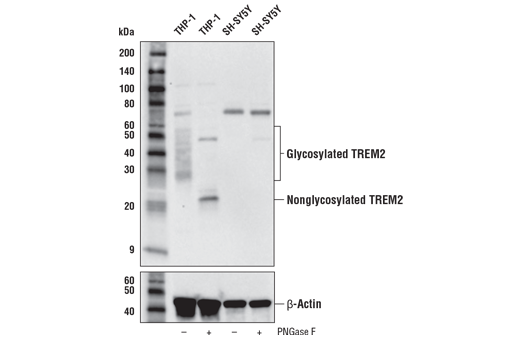 Western blot analysis of extracts from THP-1 and SH-SY5Y cells, untreated (-) or treated with peptide N-glycosidase F (PNGase F; +), using TREM2 (E9U8L) Rabbit mAb (Amino-terminal Antigen) (upper) and β-Actin (D6A8) Rabbit mAb #8457 (lower).
The triggering receptor expressed on myeloid cells 2 (TREM2) protein is an innate immune receptor that is expressed on the cell surface of microglia, macrophages, osteoclasts, and immature dendritic cells (1). The TREM2 receptor is a single-pass type I membrane glycoprotein that consists of an extracellular immunoglobulin-like domain, a transmembrane domain, and a cytoplasmic tail. TREM2 interacts with the tyrosine kinase-binding protein DAP12 to form a receptor-signaling complex (2). The TREM2 protein plays a role in innate immunity and a rare functional variant (R47H) of TREM2 is associated with the late-onset risk of Alzheimer's disease (1,3). Research studies using mouse models of Alzheimer's disease indicate that deficiency and haploinsufficiency of TREM2 can lead to increased β-amyloid (Aβ) accumulation as a result of dysfunctional microglia response (4). These results agree with the distribution of TREM2 in human brain regions (e.g., white matter, the hippocampus, and neocortex) that are involved in Alzheimer's disease pathology (2). In addition, amyloid plaque formation induces expression of TREM2 and amyloid phagocytosis (5). Loss-of-function mutations in the corresponding TREM2 or DAP12 genes can result in Nasu-Hakola disease, a rare form of progressive presenile dementia that results from polycystic osseous lesions (6). TREM2 membrane shedding occurs by cleavage at the extracellular site between H157/S158 generating an N-terminal shedded fragment and a membrane bound C-terminal fragment (7, 8).
Tween is a registered trademark of ICI Americas, Inc.
Cell Signaling Technology is a trademark of Cell Signaling Technology, Inc.