#76682 ACTL6A/BAF53A Antibody
Shopping Days対象製品 対象製品の中から、まとめて購入で一部製品が無料に!
*ウェブで専用注文書を作成し、代理店へご注文ください。
をクリックすると選べます。
| | | | | | |
| --- | --- | --- | --- | --- | --- |
| #76682S | 100 μL | 56,000 | | | |
感度
分子量 (kDa)
抗体の由来
貯法
内在性
45
Rabbit
-20℃
| 種交差性 (社内試験済) | |
| --- | --- |
| ヒト、マウス、ラット、サル | - |
ウェスタンブロッティング (1:1000)、免疫沈降 (1:50)
特異性・感度
ACTL6A/BAF53A Antibody recognizes endogenous levels of total ACTL6A/BAF53A protein. This antibody does not cross-react with ACTL6B/BAF53B protein. This antibody does cross-react with an unidentified protein of 95kDa.
使用抗原
Polyclonal antibodies are produced by immunizing animals with a synthetic peptide corresponding to residues surrounding Val44 of human ACTL6A/BAF53A protein. Antibodies are purified by protein A and peptide affinity chromatography.
ホモロジー (相同性) 検索をご希望の場合 >>>
ホモロジー検索をご要望の際は、ご希望のサンプル種のアミノ酸配列とともにお問合せください。
※下記の社内データは、すべて76682 の推奨プロトコールで実験した結果です。
Western Blotting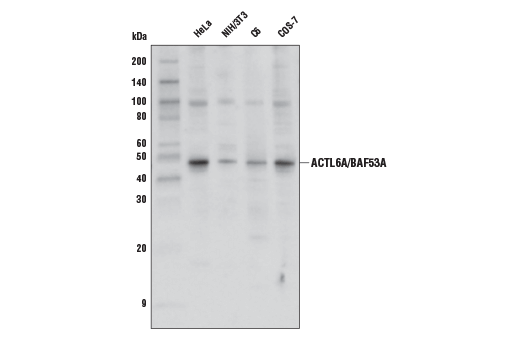 Western blot analysis of extracts from various cell lines using ACTL6A/BAF53A Antibody.
IP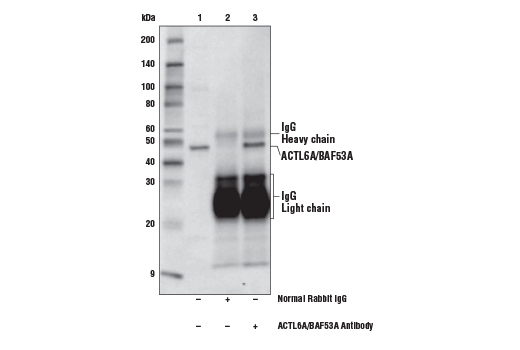 Immunoprecipitation of ACTL6A/BAF53A from HeLa cell extracts. Lane 1 is 10% input, lane 2 is Normal Rabbit IgG #2729, and lane 3 is ACTL6A/BAF53A Antibody. Western blot analysis was performed using ACTL6A/BAF53A Antibody and Mouse Anti-Rabbit IgG (Light-Chain Specific) (D4W3E) mAb (HRP Conjugate) #93702 as the secondary antibody.
The modulation of chromatin structure is an essential component in the regulation of transcriptional activation and repression. Modifications can be made by at least two evolutionarily conserved strategies, through the disruption of histone-DNA contacts by ATP-dependent chromatin remodelers, or by histone tail modifications including methylation and acetylation. One of the four classes of ATP-dependent histone remodelers is the SWI/SNF complex, the central catalytic subunit of which is Brg1 or the highly related protein hBRM (1). This SWI/SNF complex contains varying subunits but its association with either Brg1 or hBRM remains constant (1). SWI/SNF complexes have been shown to regulate gene activation, cell growth, the cell cycle and differentiation (1). Brg1/hBRM have been shown to regulate transcription through enhancing transcriptional activation of glucocorticoid receptors (2). Although usually associated with transcriptional activation, Brg1/hBRM have also been found in complexes associated with transcriptional repression including with HDACs, Rb and Tif1β (3-5). Brg1/hBRM plays a vital role in the regulation of gene transcription during early mammalian embryogenesis. In addition, Brg1/hBRM also play a role as a tumor suppressors and Brg1 is mutated in several tumor cell lines (6-8).
ACTL6/BAF53 proteins are highly homologous, actin-related proteins found in the SWI/SNF complex (9). In addition to the canonical SWI/SNF complex, ACT6LA/BAF53a is also member of the embryonic SWI/SNF complex, known as esBAF, which plays a role in pluripotency and development (10-12). ACTL6B/BAF53b is a member of the neural specific SWI/SNF complex and facilitates binding to target genes and is involved in memory and synaptic plasticity (13-15). ACTL6/BAF53 has been shown to interact with c-Myc, where it functions as a cofactor and is important in the transformation process (16). Further studies have shown ACTL6/BAF53 is associated with EMT and transformation in various cancers (17,18).
Tween is a registered trademark of ICI Americas, Inc.
Cell Signaling Technology is a trademark of Cell Signaling Technology, Inc.