#77565 Cleaved RIP (Asp324) (D5P6D) Rabbit mAb
Shopping Days対象製品 対象製品の中から、まとめて購入で一部製品が無料に!
*ウェブで専用注文書を作成し、代理店へご注文ください。
をクリックすると選べます。
| | | | | | |
| --- | --- | --- | --- | --- | --- |
| #77565S | 100 μL | 66,000 | | | |
感度
分子量 (kDa)
抗体の由来
貯法
内在性
30
Rabbit IgG
-20℃
特異性・感度
内在性レベルのAsp324 で開裂したRIP タンパク質のN末端を検出します。
使用抗原
ヒトのRIP タンパク質のAsp324 周辺領域 (合成ペプチド)
ホモロジー (相同性) 検索をご希望の場合 >>>
ホモロジー検索をご要望の際は、ご希望のサンプル種のアミノ酸配列とともにお問合せください。
※下記の社内データは、すべて77565 の推奨プロトコールで実験した結果です。
Western Blotting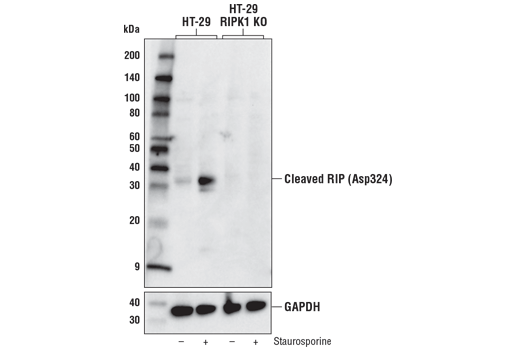 Western blot analysis of extracts from HT-29 or HT-29 RIPK1 KO cells, untreated (-) or treated with Staurosporine #9953 (1 μM, 18 hr) using Cleaved RIP (Asp324) (D5P6D) Rabbit mAb (upper) or GAPDH (D16H11) XP® Rabbit mAb #5174 (lower). HT-29 RIPK1 KO cells were kindly provided by Dr. Junying Yuan, Harvard Medical School, Boston, MA.
The receptor-interacting protein (RIP) family of serine-threonine kinases (RIP, RIP2, RIP3, and RIP4) are important regulators of cellular stress that trigger pro-survival and inflammatory responses through the activation of NF-κB, as well as pro-apoptotic pathways (1). In addition to the kinase domain, RIP contains a death domain responsible for interaction with the death domain receptor Fas and recruitment to TNF-R1 through interaction with TRADD (2,3). RIP-deficient cells show a failure in TNF-mediated NF-κB activation, making the cells more sensitive to apoptosis (4,5). RIP also interacts with TNF-receptor-associated factors (TRAFs) and can recruit IKKs to the TNF-R1 signaling complex via interaction with NEMO, leading to IκB phosphorylation and degradation (6,7). Overexpression of RIP induces both NF-κB activation and apoptosis (2,3). Caspase-8-dependent cleavage of the RIP death domain can trigger the apoptotic activity of RIP (8).
Necroptosis, a regulated pathway for necrotic cell death, is triggered by a number of inflammatory signals, including cytokines in the tumor necrosis factor (TNF) family, pathogen sensors such as toll-like receptors (TLRs), and ischemic injury (9,10). The process is negatively regulated by caspases and is initiated through a complex containing the RIP and RIP3 kinases, typically referred to as the necrosome. Necroptosis is inhibited by a small molecule inhibitor of RIP, necrostatin-1 (Nec-1) (11). Research studies show that necroptosis contributes to a number of pathological conditions, and Nec-1 has been shown to provide neuroprotection in models such as ischemic brain injury (12). RIP is phosphorylated at several sites within the kinase domain that are sensitive to Nec-1, including Ser14, Ser15, Ser161, and Ser166 (13).
Tween is a registered trademark of ICI Americas, Inc.
XP is a registered trademark of Cell Signaling Technology, Inc.
Cell Signaling Technology is a trademark of Cell Signaling Technology, Inc.