#8111 SignalStain® Phospho-ErbB Family IHC Sampler Kit
| | | | | |
| --- | --- | --- | --- | --- |
| #8111S | 1 Kit | 104,000 | | |
* 受注生産につきお届けは受注後2-3週間かかります。キットに含まれるコントロールスライドの有効期限は製造後2ヶ月です。
*SignalStain® Antibody Diluent is supplied as a working solution and should be stored at 4ºC (packaged separately).
†Control slides should be stored at 4ºC (packaged separately).
Custom Ordering Details
The control slides that accompany this kit are cut freshly upon ordering. Please allow up to three business days for your product to be processed.
貯法
-20℃ (SignalStain® Antibody Diluent #8112 とSignalSlide® Phopsho-ErbB Family IHC Controls #8117は4℃)
IHC-P (paraffin)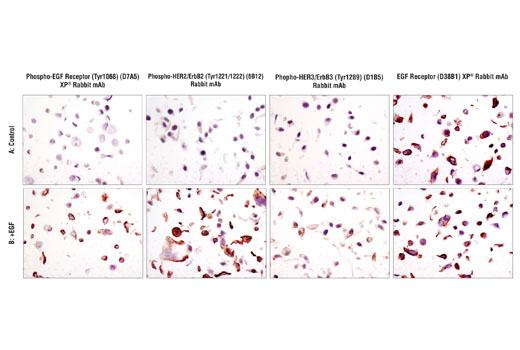 Immunohistochemical analysis of paraffin-embedded SK-BR-3 cell pellets, either untreated (upper) or EGF-treated (lower), using Phospho-EGF Receptor (Tyr1068) (D7A5) XP® Rabbit mAb #3777, Phospho-HER2/ErbB2 (Tyr1221/1222) (6B12) Rabbit mAb #2243, Phopho-HER3/ErbB3 (Tyr1289) (D1B5) Rabbit mAb #2842 or EGF Receptor (D38B1) XP® Rabbit mAb #4267. Cell pellets are provided in the SignalSlide® ErbB Family IHC Controls.
Schematic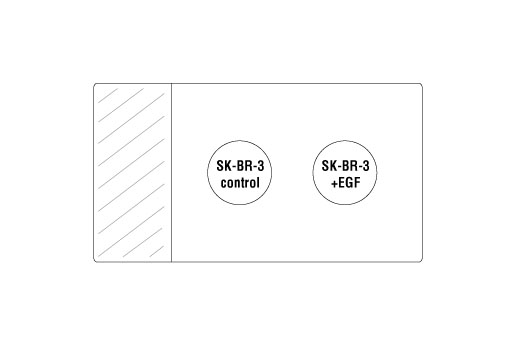 Schematic of placement of cell pellets on SignalSlide® Phospho-ErbB Family IHC Controls #8117.
The epidermal growth factor (EGF) receptor is a 170 kDa transmembrane tyrosine kinase that belongs to the HER/ErbB protein family. Ligand binding results in receptor dimerization, autophosphorylation, activation of downstream signaling and lysosomal degradation (1,2). EGFR is phosphorylated on multiple tyrosine residues, each of which leads to activation of a specific downstream pathway. Major residues involved in EGFR signaling include: Tyr845, Tyr992, Tyr1045, Tyr1068, Tyr1148 and Tyr1173 (2-9). Phosphorylation of EGFR at specific serine and threonine residues attenuates EGFR kinase activity. EGFR carboxy-terminal residues Ser1046 and Ser1047 are phosphorylated by CaM kinase II; a mutation to either of these serines results in upregulated EGFR tyrosine autophosphorylation (10).
The ErbB2 (HER2) proto-oncogene encodes a 185 kDa transmembrane, receptor-like glycoprotein with intrinsic tyrosine kinase activity (11). While ErbB2 lacks an identified ligand, ErbB2 kinase activity can be activated in the absence of a ligand when overexpressed and through heteromeric associations with other ErbB family members (12). Amplification of the ErbB2 gene and overexpression of its product are detected in almost 40% of human breast cancers, as such it is a key therapeutic target (13). ErbB2 has several key residues that are phosphorylated upon its activation including Tyr877, Tyr1221/1222 and Tyr1248 (11,14).
HER3/ErbB3 is a member of the ErbB receptor protein tyrosine kinase family, but lacks tyrosine kinase activity. Tyrosine phosphorylation of ErbB3 depends on its association with other ErbB tyrosine kinases. Ligand binding promotes formation of a heterodimer containing ErbB3 and another ErbB protein and subsequent tyrosine phosphorylation of ErbB3 by the activated ErbB kinase (15,16). At least nine putative carboxy-terminal tail tyrosine phosphorylation sites are found in ErbB3, including Tyr1222 and Tyr1289 (17). ErbB3 may function as an oncogenic unit together with other ErbB members in tumor development; ErbB2 requires ErbB3 to drive breast tumor cell proliferation (18). A novel anti-tumor strategy involves inhibiting the interaction between ErbB3 and ErbB tyrosine kinases.
The manufacture, use, sale and import of this product is within the scope of one or more intellectual property rights (including patents and patent applications) owned or controlled by Cell Signaling Technology. The purchase of this product conveys to the buyer a non-transferrable right to use the purchased product only in research conducted by the buyer. The sale of the product is expressly conditioned on the buyer not using the products or its components (1) to analyze or reverse engineer the product for its chemical/physical properties and composition (including e.g., identification of the sequence); (2) in manufacturing; (3) to provide a service, information, or data to an unaffiliated third party for payment; (4) for therapeutic, diagnostic or prophylactic purposes; (5) resale, whether or not such product are resold for use in research; or for any other commercial purpose. For information on purchasing a license to this product for purposes other than research, contact Cell Signaling Technology, Inc. Business Development at busdev@cellsignal.com.
DRAQ5 is a registered trademark of Biostatus Limited.
SignalStain is a trademark of Cell Signaling Technology, Inc.
XP is a registered trademark of Cell Signaling Technology, Inc.
SignalSlide is a registered trademark of Cell Signaling Technology, Inc.
Cell Signaling Technology is a trademark of Cell Signaling Technology, Inc.
U.S. Patent No. 7,429,487, foreign equivalents, and child patents deriving therefrom.