#8190 α-Parvin (D7F9) XP® Rabbit mAb
| | | | | |
| --- | --- | --- | --- | --- |
| #8190S | 100 μL | 58,000 | | |
感度
分子量 (kDa)
抗体の由来
貯法
内在性
43
Rabbit IgG
-20℃
| 種交差性 (社内試験済) | |
| --- | --- |
| ヒト、マウス、ラット、サル、イヌ | - |
ウェスタンブロッティング (1:1000)、免疫沈降 (1:50)、免疫蛍光細胞染色 (IF-IC) (1:200)
特異性・感度
内在性レベルのα-Parvin タンパク質を検出します。
使用抗原
ヒトのα-Parvin タンパク質のN末端近傍領域 (合成ペプチド)
ホモロジー (相同性) 検索をご希望の場合 >>>
ホモロジー検索をご要望の際は、ご希望のサンプル種のアミノ酸配列とともにお問合せください。
※下記の社内データは、すべて8190 の推奨プロトコールで実験した結果です。
Western Blotting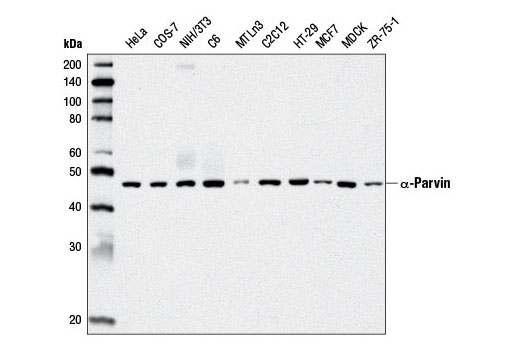 Western blot analysis of extracts from various cell lines using α-Parvin (D7F9) XP® Rabbit mAb.
IP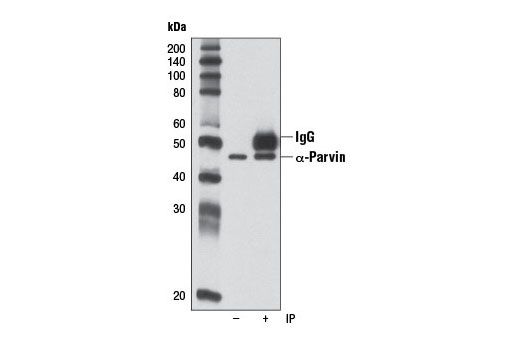 Immunoprecipitation of α-Parvin from HeLa cells using α-Parvin (D7F9) XP® Rabbit mAb. Western blot was performed using the same antibody. Lane 1 is 10% input (-).
IF-IC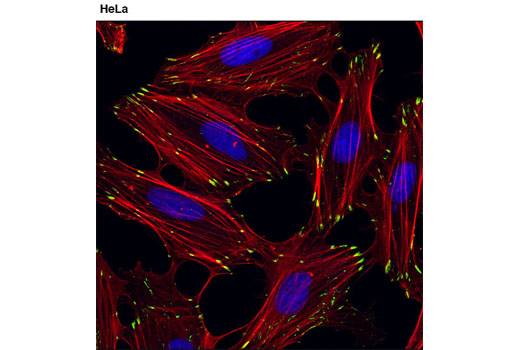 Confocal immunofluorescent analysis of HeLa cells using α-Parvin (D7F9) XP® Rabbit mAb (green). Actin filaments were labeled with DY-554 phalloidin (red). Blue pseudocolor= DRAQ5® #4084 (fluorescent DNA dye).
The extracellular matrix (ECM) is a complex structure of secreted macromolecules surrounding mammalian organs and tissues. Controlled interactions between cells and the ECM are important in proliferation, migration, survival, polarity, and differentiation. Cells contact the ECM primarily through heterodimeric integral membrane proteins called integrins. Integrins connect the ECM to the cytoskeleton, and therefore the cell signaling machinery, through protein complexes called focal adhesions (1).
The ILK/PINCH/Parvin (IPP) complex is composed of three highly conserved proteins recruited to sites of ECM contact as pre-assembled structures. The IPP acts at the interface of the integrin/actin connection to regulate formation of focal adhesions and integrin signaling. All three proteins contain multiple protein binding domains allowing them to function as adaptor proteins in the formation of focal adhesions. ILK (integrin-linked kinase) also has a catalytic (protein Ser/Thr kinase) domain, and may or may not function as a kinase in vivo. Roles for IPP proteins outside of the IPP complex have been proposed, including regulation of gene expression (2,3).
The parvin family consists of 3 members, α-parvin/actopaxin, β-parvin/affixin, and γ-parvin. α-parvin and β-parvin are expressed ubiquitously, while expression of γ-parvin is restricted to hematopoietic cells (4). α-parvin binds to f-actin both directly and via interaction with the focal adhesion protein paxillin (5). α-parvin regulates cell spreading and motility through interactions with the cofilin kinase TESK1 (6), and with the GTPase activating protein CdGAP (7). Phosphorylation of α-parvin during mitosis may have a role in the regulation of actin dynamics during the cell cycle (8).
DRAQ5 is a registered trademark of Biostatus Limited.
XP is a registered trademark of Cell Signaling Technology, Inc.
Cell Signaling Technology is a trademark of Cell Signaling Technology, Inc.