#83669 TAZ (E8E9G) Rabbit mAb
Shopping Days対象製品 対象製品の中から、まとめて購入で一部製品が無料に!
*ウェブで専用注文書を作成し、代理店へご注文ください。
をクリックすると選べます。
| | | | | | |
| --- | --- | --- | --- | --- | --- |
| #83669S | 100 μL | 56,000 | | | |
感度
分子量 (kDa)
抗体の由来
貯法
内在性
55
Rabbit IgG
-20℃
| 種交差性 (社内試験済) | |
| --- | --- |
| ヒト、マウス、ラット、サル | - |
ウェスタンブロッティング (1:1000)、免疫沈降 (1:50)、免疫蛍光細胞染色 (IF-IC) (1:200)
特異性・感度
TAZ (E8E9G) Rabbit mAb recognizes endogenous levels of total TAZ protein. This antibody does not cross-react with YAP.
使用抗原
Monoclonal antibody is produced by immunizing animals with recombinant protein corresponding to human TAZ protein. The epitope has been mapped to a region surrounding Pro49.
ホモロジー (相同性) 検索をご希望の場合 >>>
ホモロジー検索をご要望の際は、ご希望のサンプル種のアミノ酸配列とともにお問合せください。
※下記の社内データは、すべて83669 の推奨プロトコールで実験した結果です。
Western Blotting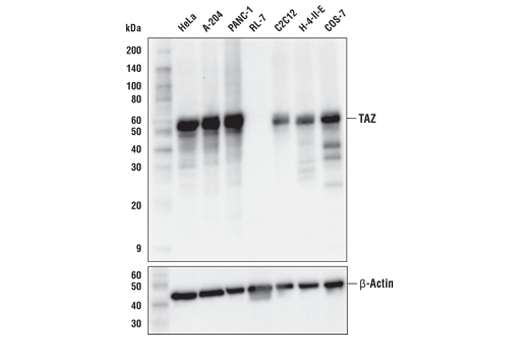 Western blot analysis of extracts from various cell lines using TAZ (E8E9G) Rabbit mAb (upper) and β-Actin (D6A8) Rabbit mAb #8457 (lower). Expression levels of TAZ among cell lines are consistent with expectations based on publicly available bioinformatic databases.
IP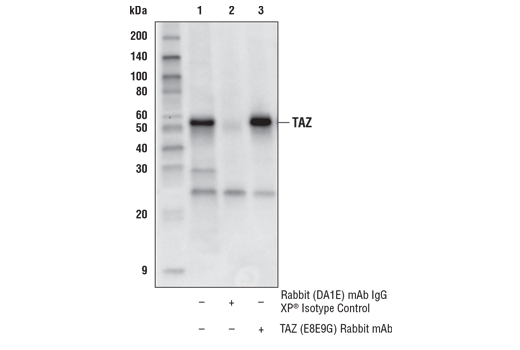 Immunoprecipitation of TAZ protein from HeLa cell extracts. Lane 1 is 10% input, lane 2 is Rabbit (DA1E) mAb IgG XP® Isotype Control #3900, and lane 3 is TAZ (E8E9G) Rabbit mAb. Western blot analysis was performed using TAZ (D3I6D) Rabbit mAb #70148. Mouse anti-rabbit IgG (Conformation Specific) (L27A9) mAb (HRP Conjugate) #5127 was used for detection to avoid cross-reactivity with IgG.
IF-IC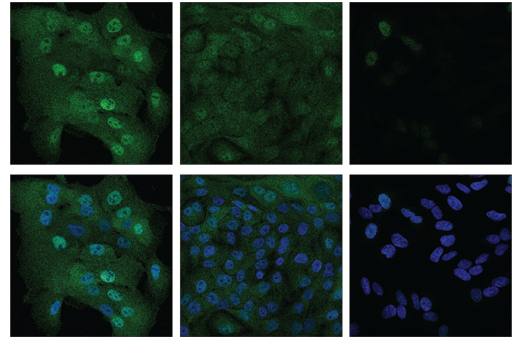 Confocal immunofluorescent analysis of MCF 10A cells (high-expressing) at low (left) and high-confluence (middle) versus SH-SY5Y cells (right, low-expressing) using TAZ (E8E9G) Rabbit mAb (green). Nuclei are labeled with DAPI #4083 (blue). Note that decreased nuclear localization of TAZ protein is seen in high-confluence MCF 10A cells.
TAZ is a transcriptional co-activator with a PDZ-binding motif that is regulated by its interaction with 14-3-3 proteins (1). TAZ shares homology with the WW domain of Yes-associated protein (YAP) (1). TAZ is proposed to modulate the switch between proliferation and differentiation of mesenchymal stem cells (MSC) via interaction with transcription factors Runx2 and PPARγ. This process is critical to normal tissue development and the prevention of tumor formation. Due to its role in determination of MSC fate, TAZ may have clinical relevance to several human diseases caused by an imbalance of MSC differentiation (2,3). TAZ is negatively regulated via phosphorylation by LATS1/2, core kinases in the Hippo signaling pathway that controls stem cell development, tissue growth and tumor development (4).
Tween is a registered trademark of ICI Americas, Inc.
Cell Signaling Technology is a trademark of Cell Signaling Technology, Inc.