#85410 Phospho-Histone H2A.X (Ser139) (D7T2V) Mouse mAb (PE Conjugate)
Shopping Days対象製品 対象製品の中から、まとめて購入で一部製品が無料に!
*ウェブで専用注文書を作成し、代理店へご注文ください。
をクリックすると選べます。
| | | | | | |
| --- | --- | --- | --- | --- | --- |
| #85410S | 100 μL | 63,000 | | | |
感度
抗体の由来
貯法
内在性
Mouse IgG1
4℃
| 種交差性 (社内試験済) | |
| --- | --- |
| ヒト、マウス、ラット、サル | - |
特異性・感度
内在性レベルのSer139 がリン酸化されたHistone H2A.X タンパク質を検出します。
使用抗原
ヒトのHistone H2A.X タンパク質のSer139 周辺領域 (合成ペプチド)
ホモロジー (相同性) 検索をご希望の場合 >>>
ホモロジー検索をご要望の際は、ご希望のサンプル種のアミノ酸配列とともにお問合せください。
※下記の社内データは、すべて85410 の推奨プロトコールで実験した結果です。
Flow Cytometry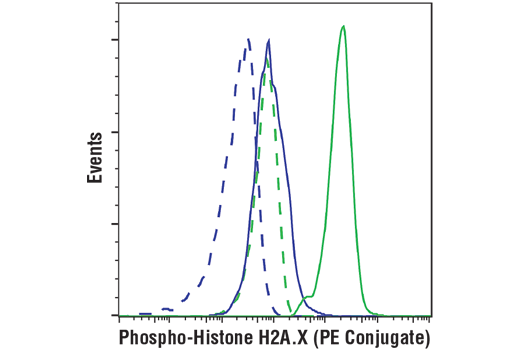 Flow cytometric analysis of HeLa cells, untreated (blue) or treated with UV (100 mj/cm3, 2 hr; green), using Phospho-Histone H2A.X (Ser139) (D7T2V) Mouse mAb (PE Conjugate) (solid lines) compared to concentration-matched
Mouse (G3A1) mAb IgG1 Isotype Control (PE Conjugate) #6899 (dashed lines).
Histone H2A.X is a variant histone that represents approximately 10% of the total H2A histone proteins in normal human fibroblasts (1). H2A.X is required for checkpoint-mediated cell cycle arrest and DNA repair following double-stranded DNA breaks (1). DNA damage, caused by ionizing radiation, UV-light, or radiomimetic agents, results in rapid phosphorylation of H2A.X at Ser139 by PI3K-like kinases, including ATM, ATR, and DNA-PK (2,3). Within minutes following DNA damage, H2A.X is phosphorylated at Ser139 at sites of DNA damage (4). This very early event in the DNA-damage response is required for recruitment of a multitude of DNA-damage response proteins, including MDC1, NBS1, RAD50, MRE11, 53BP1, and BRCA1 (1). In addition to its role in DNA-damage repair, H2A.X is required for DNA fragmentation during apoptosis and is phosphorylated by various kinases in response to apoptotic signals. H2A.X is phosphorylated at Ser139 by DNA-PK in response to cell death receptor activation, c-Jun N-terminal Kinase (JNK1) in response to UV-A irradiation, and p38 MAPK in response to serum starvation (5-8). H2A.X is constitutively phosphorylated on Tyr142 in undamaged cells by WSTF (Williams-Beuren syndrome transcription factor) (9,10). Upon DNA damage, and concurrent with phosphorylation of Ser139, Tyr142 is dephosphorylated at sites of DNA damage by recruited EYA1 and EYA3 phosphatases (9). While phosphorylation at Ser139 facilitates the recruitment of DNA repair proteins and apoptotic proteins to sites of DNA damage, phosphorylation at Tyr142 appears to determine which set of proteins are recruited. Phosphorylation of H2A.X at Tyr142 inhibits the recruitment of DNA repair proteins and promotes binding of pro-apoptotic factors such as JNK1 (9). Mouse embryonic fibroblasts expressing only mutant H2A.X Y142F, which favors recruitment of DNA repair proteins over apoptotic proteins, show a reduced apoptotic response to ionizing radiation (9). Thus, it appears that the balance of H2A.X Tyr142 phosphorylation and dephosphorylation provides a switch mechanism to determine cell fate after DNA damage.
Cell Signaling Technology is a trademark of Cell Signaling Technology, Inc.