#86132 METTL3 (E3F2A) Rabbit mAb
Shopping Days対象製品 対象製品の中から、まとめて購入で一部製品が無料に!
*ウェブで専用注文書を作成し、代理店へご注文ください。
をクリックすると選べます。
| | | | | | |
| --- | --- | --- | --- | --- | --- |
| #86132S | 100 μL | 56,000 | | | |
感度
分子量 (kDa)
抗体の由来
貯法
内在性
70
Rabbit IgG
-20℃
| 種交差性 (社内試験済) | |
| --- | --- |
| ヒト、マウス、ラット、サル | - |
ウェスタンブロッティング (1:1000)、免疫沈降 (1:50)、クロマチン免疫沈降 (1:50)
特異性・感度
METTL3 (E3F2A) Rabbit mAb recognizes endogenous levels of total METTL3 protein.
使用抗原
Monoclonal antibody is produced by immunizing animals with a synthetic peptide corresponding to residues near the carboxy terminus of human METTL3 protein.
ホモロジー (相同性) 検索をご希望の場合 >>>
ホモロジー検索をご要望の際は、ご希望のサンプル種のアミノ酸配列とともにお問合せください。
※下記の社内データは、すべて86132 の推奨プロトコールで実験した結果です。
Western Blotting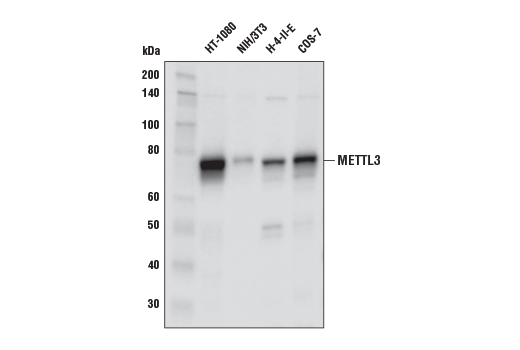 Western blot analysis of extracts from various cell lines using METTL3 (E3F2A) Rabbit mAb.
IP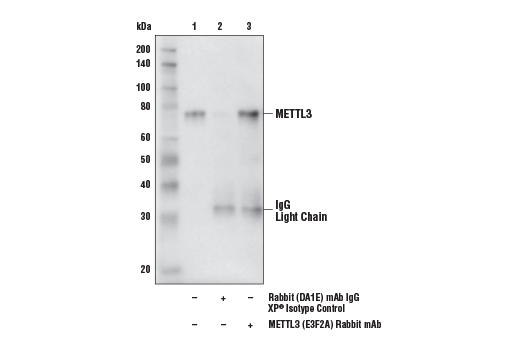 Immunoprecipitation of METTL3 from 293T cell extracts. Lane 1 is 10% input, lane 2 is Rabbit (DA1E) mAb IgG XP® Isotype Control #3900, and lane 3 is METTL3 (E3F2A) Rabbit mAb. Western blot analysis was performed using METTL3 (E3F2A) Rabbit mAb and Mouse Anti-rabbit IgG (Conformation Specific) (L27A9) mAb (HRP Conjugate) #5127.
Chromatin IP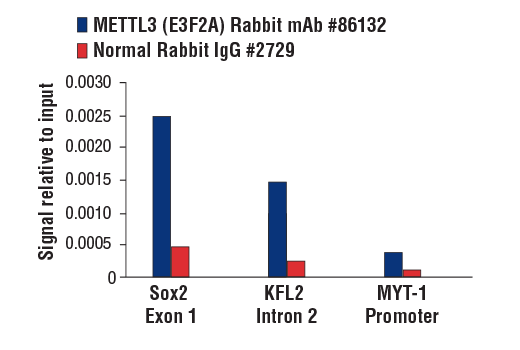 Chromatin immunoprecipitations were performed with cross-linked chromatin from mES cells and either METTL3 (E3F2A) Rabbit mAb or Normal Rabbit IgG #2729 using SimpleChIP® Plus Enzymatic Chromatin IP Kit (Magnetic Beads) #9005. The enriched DNA was quantified by real-time PCR using SimpleChIP® Mouse Sox2 Exon1 Primers #30180, mouse KLF2 intron 2 primers, and SimpleChIP® Mouse MYT-1 Promoter Primers #8985. The amount of immunoprecipitated DNA in each sample is represented as signal relative to the total amount of input chromatin, which is equivalent to one.
Methyltransferase-like protein 3 (METTL3) and methytransferase-like protein 14 (METTL14) are the two catalytic subunits of an N6-methyltransferase complex that methylates adenosine residues in RNA (1). Methylation of adenosine residues regulates mRNA splicing, processing, translation efficiency, editing and stability, in addition to regulating primary miRNA processing, and is critical for proper regulation of the circadian clock, embryonic stem cell self-renewal, immune tolerance, response to various stimuli, meiosis and mouse fertility (2,3). In this complex, METTL3 functions as the catalytic methyltransferase subunit and METTL14 functions as the target recognition subunit by binding to RNA (4). In addition, the Wilms tumor 1-associated protein (WTAP) functions as a regulatory subunit and is required for accumulation of the complex to nuclear speckles, which are sites of RNA processing (5). Several studies suggest a role for this complex in cancer. METTL3 expression is elevated in lung adenocarcinoma where it promotes growth, survival and invasion of human lung cancer cells (6). In addition, WTAP is over-expressed in a number of different cancers and positively regulates cell migration and invasion in glioblastoma and cholangiocarcinoma (7,8).
Tween is a registered trademark of ICI Americas, Inc.
XP is a registered trademark of Cell Signaling Technology, Inc.
SimpleChIP is a registered trademark of Cell Signaling Technology, Inc.
Cell Signaling Technology is a trademark of Cell Signaling Technology, Inc.