#8961 ProLong® Gold Antifade Reagent with DAPI
| | | | | |
| --- | --- | --- | --- | --- |
| #8961S | 10 mL | 35,000 | | |
概要
光脱色を防ぐReady-to-use の蛍光染色用封入剤です。DNA 色素のDAPI を含みますので、核染色も同時に行えます。24時間以内に硬化し、サンプルを数ヶ月間保存できます。ほとんどの蛍光色素に使用可能で、複数標識アッセイにもご使用いただけます。
用途
免疫蛍光細胞染色 (IF-IC)、免疫蛍光染色 (IF-F)、免疫蛍光染色 (IF-P)
IF-IC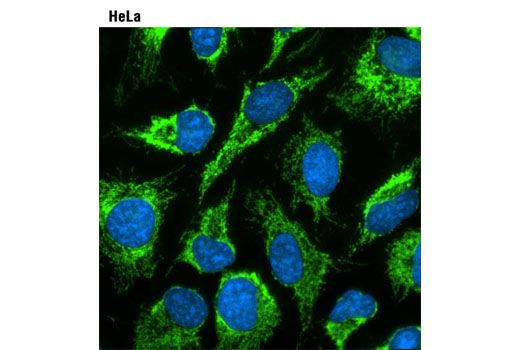 Epifluorescent analysis of HeLa cells using COX IV (3E11) Rabbit mAb (Alexa Fluor® 488 Conjugate) #4853 (green) and ProLong® Gold Antifade Reagent with DAPI (blue pseudocolor).
IF-IC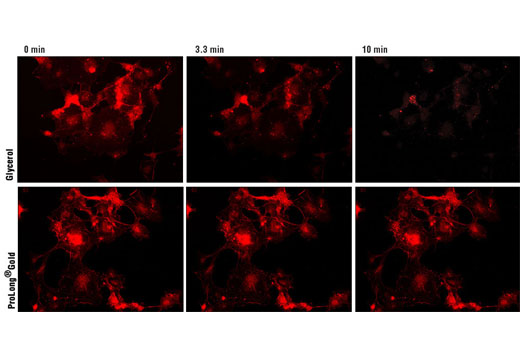 Confocal immunofluorescent analysis of COS-7 cells, mounted in either glycerol (upper panels) or ProLong® Gold Antifade Reagent #9071 (lower panels), using β-Actin (8H10D10) Mouse mAb #3700 and Anti-mouse IgG (H+L), F(ab')2 Fragment (Alexa Fluor® 555 Conjugate) #4409 (red) (0, 3.3, or 10 min of imaging).
ProLong® Gold Antifade Reagent with DAPI offers enhanced resistance to photobleaching, is premixed and ready to use, and causes little or no quenching of the fluorescent signal. The reagent cures within 24 hours and samples can be saved for months after mounting. This reagent is compatible with most dyes and is appropriate for use in multi-color labeling assays.
The inclusion of DAPI within this mounting reagent eliminates the need for a separate nuclear counterstaining step. 4', 6-diamidino-2-phenylindole, dihydrochloride (DAPI) is a blue fluorescent DNA dye that targets double-stranded AT clusters in the DNA minor groove (1). One molecule of dye binds to each 3 base pairs of dsDNA and yields an approximate 20-fold fluorescent enhancement (2). The level of DAPI-DNA fluorescence is proportional to DNA content (3).
Alexa Fluor is a registered trademark of Life Technologies Corporation.
Cell Signaling Technology is a trademark of Cell Signaling Technology, Inc.